Compact Drives Handle the Heat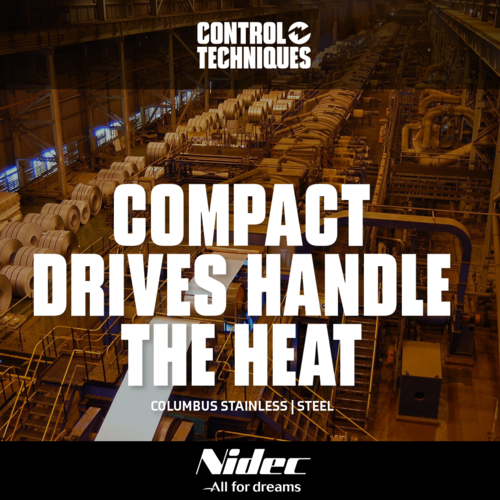 The Challenge
Stef Du Toit, Columbus Stainless Cranes Engineer, says, "To remain successful in what we do, we have ensured that our facilities can keep up with demand and experiences minimal downtime. This means working with the right technology partners."
For more than 20 years, Columbus Stainless has worked with Control Techniques to ensure operations run smoothly. The Control Techniques team recently used its expert engineering capabilities to upgrade the main hoist of the steel plant's ladle cranes.
The Solution
The solution for this application included two Unidrive M700 units connected in parallel, each driving a 250 kW 8-pole IMfinity premium efficiency induction motor. Derek explains, "Our solution needed to fit into the same space as the existing system. Our compact technology put us ahead of the competition. We were able to engineer a system which met the demands of the facility without
disrupting existing structures."
Impressed? Contact us for your automation needs
The Benefits
The ladle cranes at Columbus Stainless have been operating for approximately 25 years and still have many years of service life ahead if supported by the right technology. The new technology not only has the potential to improve uptime, but it also offers added benefits from an intelligent, compact design and connectivity.
The M700 is Control Techniques' flagship drive has also been used in other areas of the plant. Stef comments, "The local availability of the technology is a bonus. These drives are vital to our production efficiency, as we must minimise downtime as much as possible. The accessibility of spares and support in-country is a huge benefit to us."