Back To Exhibiting Ways
APR 12, 2022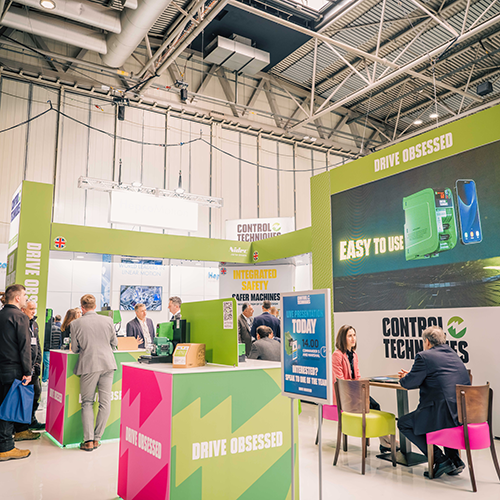 Drives and Controls was a great success this year. Finally being able to experience some form of normality returning to daily life and to finally be able to interact face-to-face with our existing and new customers once again.

This year's show could not have come at a better time for Control Techniques as it coincided perfectly with one of the biggest launches Control Techniques have ever done for one of the smallest drives we have ever brought to the market. We were excited to unveil our new micro drive and app, Commander S and Marshal at the show.

Commander S is the perfect solution for applications that require plug-and-play control straight from the box. It's easy to install, easy to use, reliable and cost-effective.
Commander S is the first drive to come with an app interface as a standard feature at no extra cost. Marshal revolutionises how the user interfaces with the drive covering commissioning, monitoring, diagnostics and support.

The benefits this new drive brings are game-changing and we are so confident in its reliability, that we happily include a free 5-year warranty.
Judging by the interest shown in the product at the show, early indications are that there is a real appetite for something new in the micro drive market. The innovation and technology that Control Techniques has brought to the table has created a real buzz. Visitors were able to see, touch, and interact with the new drive, the Marshal app could be downloaded there and then, giving visitors the real-life experience of how easy the drive is to use.

Designed from the ground up, with the latest generation technology and components. Commander S and Marshal really is the micro drive for NOW and to take us into the future.
AND THERE'S MORE
Not only did we launch our newest drive, but we presented our whole portfolio of drives, from the smallest to the largest covering a range from 0.18 kW up to 2.8 MW.

As a leading manufacturer of AC and DC variable speed drives, servos and power conversion technologies for commercial and industrial applications. Our innovative products are used in the most demanding applications, requiring performance, reliability and energy efficiency. We are 100% committed to delivering world-class motor control technologies to help businesses significantly reduce energy costs and improve their operating efficiency.

No matter what your requirement, Control Techniques has the drive to perfectly match your application. So, whenever you think drives, you think Control Techniques.