Drives To Power The Industry's Highest-Rated Slitter Machines
AUG 04, 2022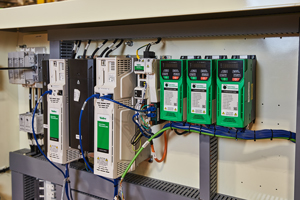 Control Techniques' Unidrive M300 and M700 with MCI modules retain the high standard of quality, precision, and functionality synonymous with Canadian firm Deacro.

The industry leader's current facility is designed to meet the tremendous demand for converting equipment while providing the improved service that today's converters require, and a working environment geared towards quality control and optimised service.

In 2004 it began searching for more flexible, dynamic drives; the Control Techniques portfolio proved to provide the flexibility it needed. Recently, the company switched to the latest Unidrive M300 and M700 series.

By changing to the new drives, the Deacro machines no longer require a PLC. Machine control is provided via multiple MCi210 modules installed in the drives. The MCi210's power the Unidrives, Modbus TCP/IP Remote I/O's, and pneumatic valves on the machine.

Clarence Beishuizen, Deacro President, comments, "The Control Techniques drives are the heart of Deacro's control system. They offer us exceptional flexibility, particularly with the winder block design and optional modules to add our specific features. We build the highest quality slitter rewinders in the industry. And, with the increasing needs of our customers for the latest technology and faster web speeds - up to 3000 fpm – we require the most innovative control technology that is only offered by Control Techniques. They help create the most technically advanced equipment for our customers."