Perfectly Packed
JAN 10, 2022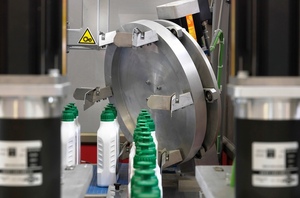 Founded in 1974, in the centre of the packaging valley, Modena, Italy, Baumer Srl specialises in manufacturing packaging machines for shrink film and wrap-around cartons. Baumer's Wrap-Around cartoners are the ideal solution to pack products in a simple and safe way into wrap-around carton, high tray, and display cases.
Previously Baumer had worked with various drive brands, but none offered the flexibility that distinguishes the Control Techniques offer. The company sought an energy-efficient solution to control airflow and temperature in the high-speed processes typical in food and beverage packaging production.
Today Baumer relies on a combination of Unidrive M, Digitax HD, and Commander C300 to control the airflow and temperature in its packaging machines. Marco Stanzani, Marketing Manager Baumer, said, "At first we used Unidrive SP. The transition from Unidrive SP to Unidrive M700 ensured the cloning of the parameters, but above all, the motion and PLC project. The mechanical compatibility guarantees an easy replacement directly in the field without mechanical interventions."
The introduction of centralised motion control has allowed Baumer to offer a more up-to-date solution leaving the decentralised system unchanged; this allows greater flexibility and guarantees excellent operation.
The relationship with Control Techniques has delivered multiple benefits for Baumer, but above all, it makes things easy. The modularity of Unidrive M700 and Digitax HD guarantee a comfortable, easy to use and flexible application for its machines.