HIGH POWER CABINET DRIVE AVAILABLE IN AS LITTLE AS ONE WEEK
OCT 15, 2020
High power drive users can now receive ready-made drive cabinet systems in as little as one week for emergency breakdowns, following the release of Control Techniques' DFS series of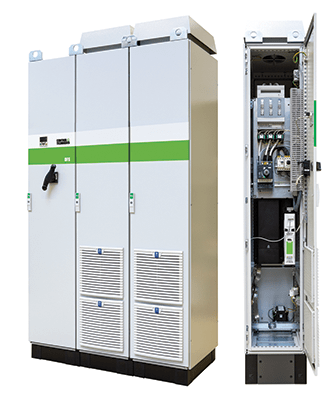 freestanding drives.
Designed for energy efficient motor control in high ingress-prone environments, European delivery is possible within five working days by prior agreement. Ranging from 55 kW to 520 kW, the pre-engineered drive system comes ready to use with no additional engineering required and is designed to integrate with existing cubicle setup. DFS is simple to configure using the door-mounted HMI or Windows-based Connect PC tool.
IP23 comes as standard, and an IP54 system is also available, along with a water cooled IP55 variant on request. Boosting reliability, DFS also uses standard production drive modules from Control Techniques' globally installed ranges, manufactured to highly consistent procedures with multiple test gates and full traceability. Durability is reinforced on drive modules via conformal coated PCBs, and a wide supply voltage tolerance.
DFS is based on Control Techniques' globally installed Unidrive M700 and Powerdrive F300 drive modules. With Unidrive M700, high performance motor control is provided with up to 3,000 Hz current loop bandwidth and up to 250 Hz speed loop bandwidth. Unidrive M700 also includes onboard machine control with open application programming. Alternatively, Powerdrive F300 includes specific fan, pump and compressor application functionality.
Unidrive M700 includes Ethernet onboard, including EtherNet I/P, Profinet and Modbus TCP/IP. Both drive models also include integration options to further expand communications across all major protocols, plus options covering control, I/O and encoders.
In addition to this, Control Techniques' new F600 Pump Drive will also soon be available to DFS format.