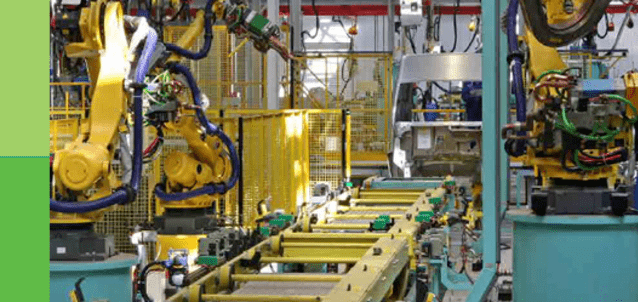 Many sectors, including conveying, hoisting, transfer and indexing, require safe and increasingly flexible drive solutions. The brake motor, at the heart of the system, is a key element for reliability and safety, and must meet the most demanding requirements in industry.
Leroy-Somer, a company well-known in the handling business, presents its new range of FFB brake motors developed around the "Flexible concept", a high-performance design which is the product of over 50 years' experience in industrial applications. This robust, innovative concept offers an extensive range of options associated with safety and variable speed as standard, thus making the FFB brake motor ideal for a multitude of applications.
Reliability and robustness :
With the latest generation IMfinity® induction motor from Leroy-Somer, the FFB brake motor is based on a tried and tested design, ensuring it can withstand the most severe stresses encountered in handling applications.
Its mechanical and electrical design is based on recognised expertise in industry, civil engineering and lifts, making it highly reliable and extremely robust.
Performance and safety :
Designed making full use of Leroy-Somer's technological and industrial expertise, the FFB brake motor can be integrated in most fixed or variable speed applications quickly and easily. Its modular encoder adaptation principle makes it a versatile motor, suitable for the simplest to the most demanding variable speed applications.
The total control of the noise level, for both pick-up and engagement, as well as optimum control of application and release, make the FFB brake motor one of the best of its generation.
This new range, sized for dynamic braking, is based on failsafe operation. The industrial control of its performance (running-in of all the friction parts as standard) and a wide range of braking function supervision accessories (opening, closing and wear sensor, etc.), significantly increase the safety of the transmission chain.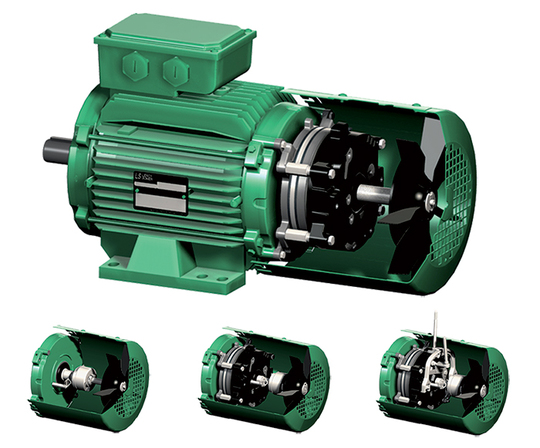 International use and energy efficiency :
The multi-voltage, multi-frequency construction of the FFB brake motor, covering 80% of the world's power supplies, makes it ideal for use in many countries. Just one product reference is all that is needed, in place of the previous four or five.
In order to achieve significant energy savings, FFB brake motors offer various different efficiency levels: non-IE, IE2 and IE3. Ideal for variable speed operation, they comply with requirements for improved energy efficiency in motorised industrial applications.
Express availability :
The flexible architecture of the FFB brake motor, together with the organization of Leroy-Somer production and distribution facilities, make it possible to meet customers' delivery requirements precisely.
A wide variety of products and options, combined with a range of gearboxes and variable speed drives, are available within one, five or ten days.
The new IMfinity® induction motors platform, the latest generation 3000 range of geared motors, the high performance levels of the Unidrive M variable speed drives and the FFB brake motor range all enhance Leroy-Somer's ability to offer solutions that are designed to work together perfectly.
Main technical characteristics :
5 sizes
Frame sizes: 71 to 160
Braking torques: 4.5 to 200 N.m.
Multi-voltage 230/380/400/415 and 460 V
Multi-frequency 50 and 60 Hz
DC brake coil: 180 V or 20 V
Power supply built into the motor or separate via rectifier supplied in the motor terminal box