Relying on 90 years of expertise in drive systems and power generation, and over 450 successful hydro projects worldwide only for the last 20 years, Leroy-Somer proposes innovative and reliable solutions which are ideally suited to the specific requirements of the hydroelectricity market:

Synchronous generators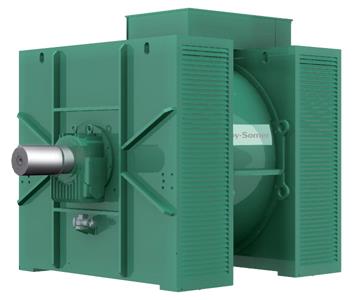 With a power range from 1 to 20 MW, Leroy-Somer synchronous generators rely on dedicated commercial and technical teams providing support and guidance throughout the project lifetime. The machines design is studied and adapted to fit site specifications (turbine profile, environmental and legal constraints…).
Leroy-Somer synchronous generators meet the most demanding situations:
- Rotation speed (250 – 1800 rpm) and turbine type support (Pelton, Francis, Kaplan, etc)
- Voltage from 400 V to 15000 kV
- High overspeed tolerance
- Axial and radial constraints tolerance
- Horizontal or vertical mounting
VTHR range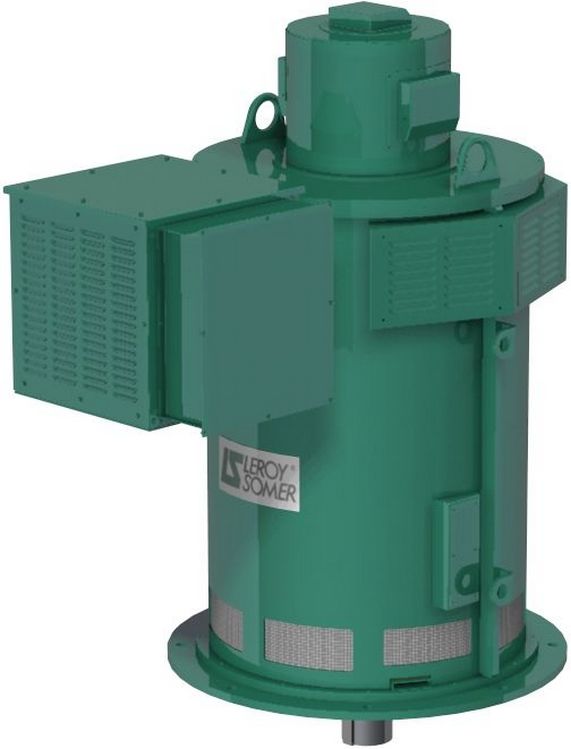 The VTHR (Vertical Tubular Hydro Range) range has been designed for micro plants looking for compact and efficient equipment by providing an affordable and reliable solution.
Thanks to its industrial expertise, Leroy-Somer has been able to develop a standardized platform that also allows enough modularity to address all the challenges pertaining hydroelectricity projects.
The VTHR range reaches up to 3MW machines, with 1000, 750 and 600 rpm and voltages between 400 V and 690 V.
​
Digital Static Excitation System


Designed to upgrade traditional plants with a cutting-edge excitation system, the Digital Static Excitation System relies on Leroy-Somer's expertise in designing voltage regulators for synchronous generators.
The Digital Static Excitation System can provide excitation current up to 900 A, and include numerous features:
- Automatic or manual voltage regulation
- User-friendly touchscreen interface
- Voltage equalization for grid connection
- Cos, Power Factor or kVAR regulation modes
- Advanced protection features
- Possible connection with existing command control system
G and SLSHR asynchronous generators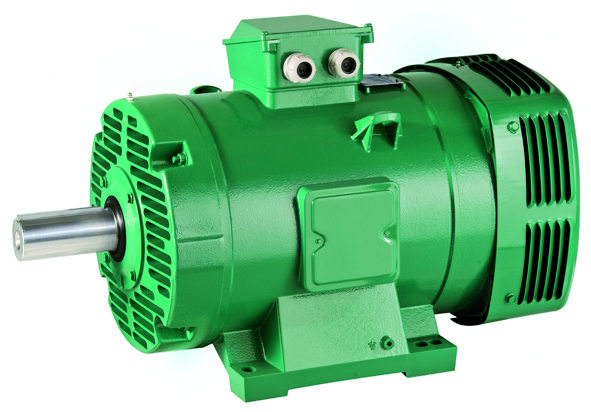 The G and SLSHR asynchronous generator ranges are ideally suited to the production of hydraulic power and can cope with the specific constraints of each installation:
- G range:
Fabricated steel construction, air-cooled
Protection index: IP 23
- SLSHR range:
Fabricated steel frame, water-cooled with double casing (cooled bearings from frame size 315 mm upwards)
Protection index: IP 55 / IP 56
SLSHR is a compact solution, particularly suited to applications requiring a low noise level.
Both these ranges have the following characteristics:
- Voltages: 380 V to 690 V
- Power ratings: 11 kW to 1500 kW
- Number of poles: between 4 and 12 (others on request)
- Mechanical and electrical options:
IM 1001 (B3), IM 3011 (V1) versions


Speed detector fitted for overspeed control

Winding temperature sensors (PTC, PT100…)

Bearing sensors (DE and NDE)

Space heaters

Hollow shaft running across main shaft

Special shafts

Special bearing unit for overspeed
Mechanical adaptation for high axial and/or radial forces
GLSRPM permanent magnet synchronous generators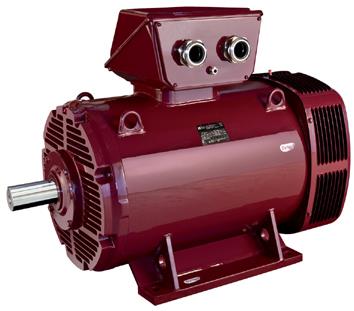 This new permanent magnet generator technology, combined with the Powerdrive frequency converter, can boost production due to its improved efficiency. The current range is already suitable for a number of low and medium-power applications, depending on the turbine speed.

Powerdrive frequency converters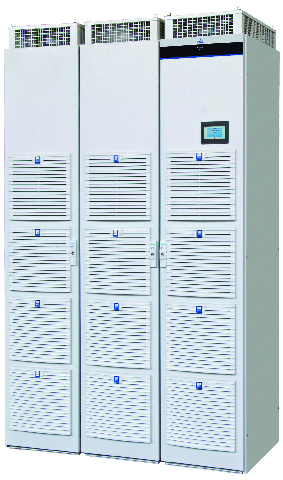 A major development in the field of hydroelectric power production, the Powerdrive frequency converter offers major advantages:


- Maximised annual production:
The Powerdrive frequency converter can be used to adjust the speed for installations with a high tidal range, with the turbine being used below its rated speed at low tide.
It is also possible to eliminate the gearbox if desired, thanks to the introduction of a standard slow-speed generator.


- Compliance with current and future legislation:
The Powerdrive frequency converter can supply or consume reactive power by eliminating the banks of capacitors from the installation and integrated management of reactive power by an electronic reference.
It manages microbreaks smoothly and efficiently and ensures immediate restarting.


- Reduced maintenance:
The Powerdrive frequency converter reduces racing and eliminates mechanical and electrical shocks on connection and disconnection. This makes it possible to do without the mechanical gearbox (on a Kaplan turbine), simplify mechanical flow regulation and eliminate the synchronous coupler.


Integrating the latest technical developments, the Powerdrive frequency converter comes in a cabinet, with ingress protection IP 20 to IP 54, and is air or liquid-cooled. It consists of a combination of standard modules; rectifiers, inverters, ventilation, control, assembled on a chassis, making maintenance simple and easy.A set of options are available for adaptation to any environment: fieldbus, add-on electrical protection, etc.
The existing range is suitable for power ratings up to 2800 kW at 690 V.​ ​