Electric propulsion generates no emissions and is extremely user-friendly: the vessels that use it are silent, experience much lower levels of vibration and are easier to handle. Last but not least in terms of its advantages: parallel hybrid represents an attractive economic proposition.
Leroy-Somer and Control Techniques have been suppliers of marine applications for many years. In association with Mayday Electronics they have now produced a high-performance propulsion system which is at the leading edge of hybrid technology. The system was developed for CNB PRO, a trademark of Construction Naval Bordeaux (Bénéteau Group), and its client, NAVE VA.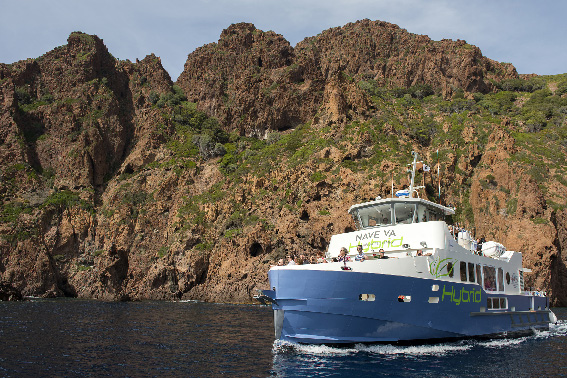 Hybrid propulsion allows 135 passengers to be ferried on visits to the Scandola nature reserve in Corsica, with no CO2 emissions and the use of batteries eliminating the noise pollution generated by internal combustion engines.
Trusting in CNB PRO's know-how in the field of passenger transport vessels and the expertise of the naval architects, Bureau Mauric, the Corsican boat excursion company, NAVE VA, recently acquired a new model CNB PRO 20 Hybrid. As specialists in organising visits to protected sites, NAVE VA do not consider this solution to be an option, but rather an environmental duty.
In low speed mode, for manoeuvring in port or in protected areas, the vessel switches to electric power. "The silence is incredible," explains Eric Brun of the Mayday company, which designs and supplies the propulsion system for these hybrid vessels. It has a speed of 6 to 8 knots, which is quite sufficient.


A rapid return on investment
Parallel hybrid differs from serial hybrid in that the size of the electric motor can be designed to match the desired application, which in the case of NAVE VA is for a 6 to 8-knot low-speed mode. Optimum efficiency is therefore achieved: at low speed, the electric motor is used in its optimum operational range. In addition, the weight of the installation is much less for equivalent endurance. Another advantage is that the internal combustion engines can be stopped when the electric mode is activated. The CNB PRO shipyard, situated in Bordeaux (western France) and part of the Bénéteau Group, has identified a decisive advantage of hybrid propulsion systems: "Diesel engines do not run at optimum efficiency at low speeds. They exhibit low levels of efficiency and are prone to fouling. The fact that the diesel engine can be shut down in order to use the electric propulsion system helps to preserve it. Its service life can therefore be doubled, depending on the applications," explains Pierre Lompech of CNB PRO.
For the NAVE VA vessel, this would mean changing the engine after 16 years, instead of just 8. In real terms, the replacement of the two diesel engines represents a budget equivalent to the price of the electric propulsion system.
"The use of an electric propulsion system instead of internal combustion for manoeuvring in port, for berthing and for low-speed travel reduces the length of time that the internal combustion engines are in use during the phases when they are least efficient. In these operating situations, significant reductions in fuel and maintenance costs are achieved. 70 litres of fuel per hour can be saved for each diesel engine, therefore totalling 140 litres per hour. Taking account of the overall added costs of the electrical propulsion installation (about €350k to €400k depending on the capacity of the battery set) and the seasonal use specific to our client, the latter expects to be able to write off this extra cost in less than four seasons, and at the same time increase the service life of the diesel engines while extending their maintenance intervals," says Pierre Lompech.
The electric propulsion system also provides redundancy, which is essential for passenger vessels.

Since 1968 NAVE VA have specialised in maritime excursions into the heart of the most beautiful areas of western and southern Corsica, and they want to run their business in an ethical and sustainable way.
A technology which is expected to develop
"Legislation is changing. Electric power is becoming mandatory for an increasing number of applications, and not just in protected nature reserves. We are developing the hybrid system, in particular the parallel hybrid system, which is ideally suited to ships of less than 30 metres. Its use could be extended to regular ferry services, links between two ports, and river or pleasure navigation," Pierre Lompech concludes.
The passenger vessel supplied to NAVE VA is equipped with two 800 hp motors, allowing it to achieve a speed of 20 knots in diesel mode. In electric mode it has a maximum speed of 8 knots and an endurance of 6 - 8 hours at a speed of 6 knots. Recharging takes a maximum of 6 hours, and uses a harbour three-phase supply or the on-board electrical generator.
"The price of electric propulsion could come down even more in the future. The batteries take up a lot of space and are still quite expensive, at about 1 euro per Watt-hour. Since the installed electrical capacity is 125 kWh, the batteries represent about half the cost of the propulsion system. The remainder is made up of the mechanical drive system, the two electric motors and the variable speed drive units. Ensuring compliance with marine conditions is straightforward. The motors and variable speed drives are installed in dry dock, the fastenings are made of stainless steel and often only minimal environmental adaptations are required, such as adding coats of paint", explains Eric Brun.
"Despite the system's advantages there are still very few parallel hybrid systems in use, especially in France. Apart from passenger ferry, we have projects in the field of pleasure boats for 'super yachts' and in military applications," says Eric Brun.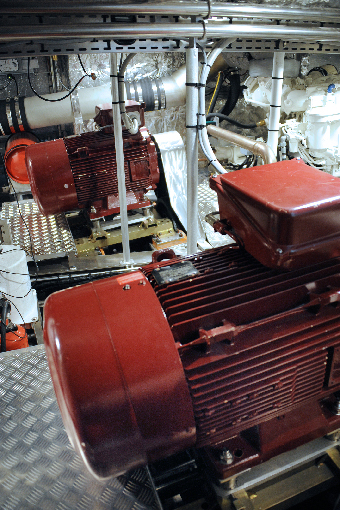 The LSRPM series from Leroy Somer's Dyneo® motor range offers high levels of efficiency and an exceptionally compact design.
Leroy-Somer and Control Techniques are global specialists in drive solutions, and offer a range of products specifically designed for the maritime world
"We chose the Dyneo® range LSRPM series permanent magnet 750 - 3000 rpm synchronous motor because of its high output and exceptionally compact design. We did find more compact motors, but these used separate cooling systems, which complicates installation in the limited space available in the engine room. Furthermore, Leroy-Somer offered to make the motor suitable for use at sea, in particular by supplying an aluminium housing appropriate to the environmental constraints", adds Eric Brun.
"The reliability of Leroy-Somer and Control Techniques products is also an advantage. The first vessel equipped with Leroy-Somer motors on a Mayday propulsion system has been in continuous operation since April 2012. This is the Hélios ferry at Marseilles (southern France), designed with the operator, ICARD Maritime, who have made over 2000 sea voyages without any problems. In fact, we chose industrial motors which are tried and tested in manufacturing industry rather than in maritime applications. The motors are only used for a few hours per day, whereas they're in operation 24-hours a day in some factories," concludes Eric Brun.
"The marine market has become a priority for us," explains Mathieu Hérieau, Business Development Manager Marine for Leroy-Somer: "The maximum amount of power needs to be concentrated in a very restricted space, and our products achieve this through their high levels of efficiency and compact design." The permanent magnet synchronous variable speed solutions supplied are part of the Dyneo® range. These comprise Leroy-Somer LSRPM motors and the latest-generation of variable speed drives from Control Techniques, the Unidrive M range. The LSRPM motors use patented Leroy-Somer technology, with a magnet rotor whose innovative design provides significantly increased efficiency, much greater than that required in industry, over the entire speed range of the motor.
This technology also significantly reduces the size and weight of the motor in comparison with asynchronous technology. The Control Techniques Unidrive M range of universal variable speed drives offer optimised levels of power consumption, reliability and flexibility. In this way, the overall cost of installation and operation can be significantly reduced.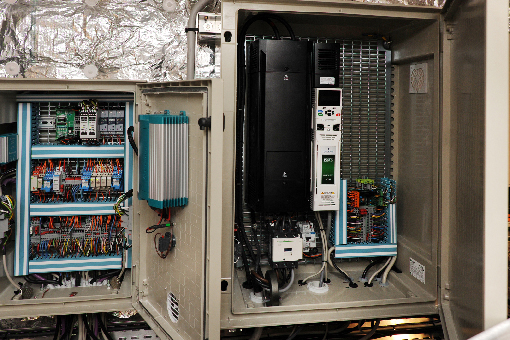 Motor control unit, equipped with Control Techniques Unidrive M
The strengths of the Leroy-Somer & Control Techniques / Mayday Electronics propulsion solution:
Increased comfort: silence, no fuel odour or CO2 emissions
Operational benefits: reduced fuel consumption, less maintenance, rapid ROI, extension of the propulsion system service life.
Technology created using drive systems with optimised size, weight and fuel consumption