Nidec Industrial Automation Belgium NV (a subsidiary of Nidec Corp) will display its range of Leroy-Somer motors and Control Techniques drives using the latest technologies at the Indumation.be trade show in Kortrijk/Belgium, from 18/20 May 2022, on the stand No. 123.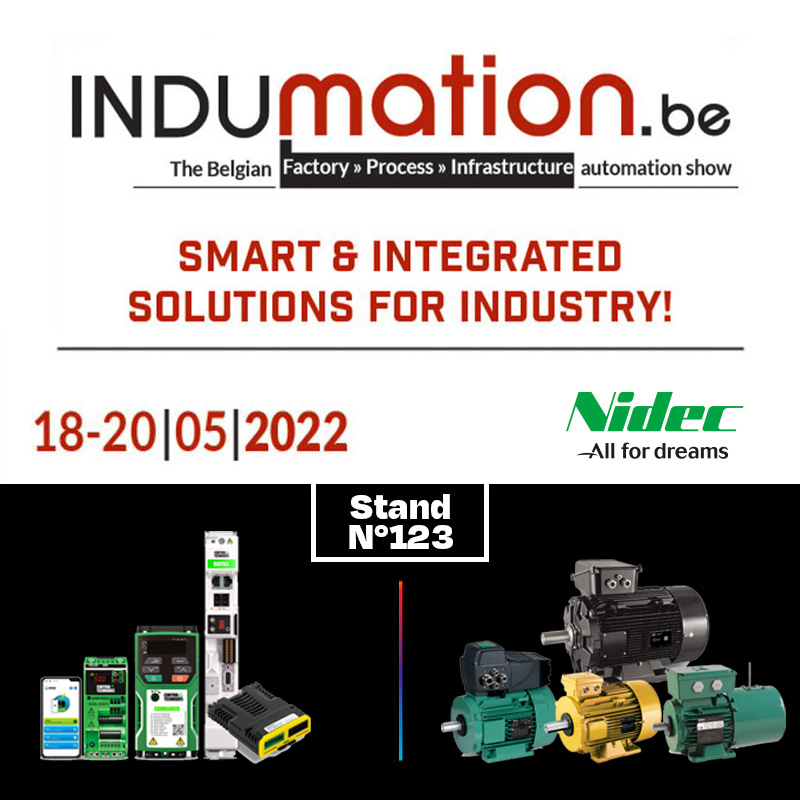 Indumation.be is the largest exhibition in Belgium dedicated to factory, process and infrastructure automation. It was founded in 2011 and is usually held on a biennial basis. Postponed in 2022 further to unprecedented troubled times, this 6th edition will be marked by a great number of new developments in the field of industrial automation, particularly in robotics, motion control, sensor and vision technology, IoT (Internet Of Things) and smart connected components.
Among this huge variety of products, professional visitors from all branches of industry will be able to learn more about the Nidec Industrial Automation's advanced drive solutions in line with the general trend towards innovation, automation and digitalization of the industry, that are:
- The Dyneo+ range of IE5 permanent magnet-assisted synchronous reluctance motors: with the lowest TCO (Total Cost of Ownership) on the market, a very short ROI (Return On Investment) and low maintenance, Dyneo+ provides a cost-effective and efficient drive solution while offering further options using digitalization through the new Systemiz interactive application.
- The Commander ID300, an integrated drive solution optimized for the control of Nidec Leroy-Somer's IMfinity® induction motors: energy-efficient, this decentralized system brings together performance and quality, offering customized solutions for process, manufacturing and intralogistics applications
- The FFB brake motors developed around the "Flexible concept": a high-performance, robust and innovative design which offers an extensive range of options making the FFB ideal for many sectors, including conveying, hoisting, transfer and indexing, requiring safe and increasingly flexible drive solutions
- The IMfinity® ATEX motor ranges, dedicated to explosive, gas and dust atmospheres that provide a safe and energy saving response for zones 1 and 2 as well as zones 21 and 22. Fixed and variable speed-compatible, these motors address all demanding ATEX markets, where quality, performance, risk management and compliance with standards are essential.
In addition, Nidec Industrial Automation Belgium NV will showcase its latest ranges of variable speed drives and options providing the best motor control, reliability and energy efficiency, that are:
- The new Commander S, an easy and cost-effective solution for applications that require plug-and-play control convenience straight from the box. Commander S is the first drive to come with an app interface as a standard feature at no extra cost. Marshal revolutionises how the user interfaces with the drive covering commissioning, monitoring, diagnostics and support. Powered by NFC technology, Marshal will be the user's drive expert in the field
- The Commander C, designed to be a simple and compact AC motor speed controller that meets advanced requirements in a wide range of applications and provides optimum user experience.
- The Digitax HD servo drive, optimized for high-dynamic applications, provides the flexibility of both standalone and modular configurations. The drive offers full servo control plus open loop permanent magnet motor and induction motor control across four functionality levels: EtherCAT, MCi machine control, Ethernet and the flexible Base servo drive.
- The new MiS210/MiS250 safety option, for Unidrive/Digitax drives, extends the built-in STO with motion safety capability and enables decentralised flexibility with the option of safety over ethernet connectivity.
All these motors and drives have been designed to complement each other perfectly, for general use or industry-specific solutions, meeting all customer requirements with best-in-class performance.