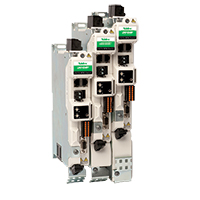 Servo drive series
Minimum size, Maximum performance
1,5 A – 16 A
The new Digitax HD range brings ultimate performance to high dynamic, pulse duty applications, where high peak torque is required for fast acceleration. With flexible configurations, in standalone or modular version, the Digitax HD allows full control of servo motors, control of open loop permanent magnet motors and asynchronous motors through four levels of functionality: basic dimmer, EtherCAT, MCi module, Ethernet.
For more information about this product range, please connect to the Control Techniques website.