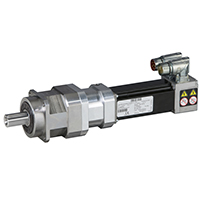 Backlash from 2 to 7 arcmin (Low backlash MEDIUM/EXPERT)
Ratios from 3 to 70 (one or two stages)
Pjr Dynabloc is a range of high-performance geared servo motors for applications requiring reduced backlash.
The planetary gearbox provides very low backlash and very high torsional stiffness. This guarantees motor stability even at dynamic operation with high inertia loads. Pjr Dynabloc also has a high overload capacity making it suitable for the most demanding applications. Lightweight and compact, the geared servo can be easily integrated into machines.
The Pjr Dynabloc range can be fitted with Unimotor hd or fm servo motors depending on the required application:
Unimotor hd - designed for pulse duty applications requiring high dynamics
Unimotor fm - ideal for continuous duty applications with high inertia loads