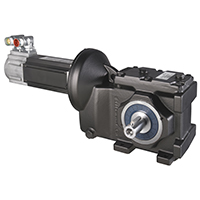 Backlash from 9 to 22 arcmin
Ratios from 5 to 101
Ot Dynabloc is a range of high-efficiency geared servo motors for applications requiring standard backlash.
The robust right angle bevel gearbox operates at 95% efficiency even at high continuous duty torques of up to 2500 N.m. The motor assembly is integrated into the gearbox, resulting in a compact solution with increased stiffness.
Ot Dynabloc geared servo motors use Unimotor fm flexible servo motors making them ideal for demanding applications with high inertia loads where continuous torque is required.