Welshpool High School Recruitment Fair
SEP 15, 2021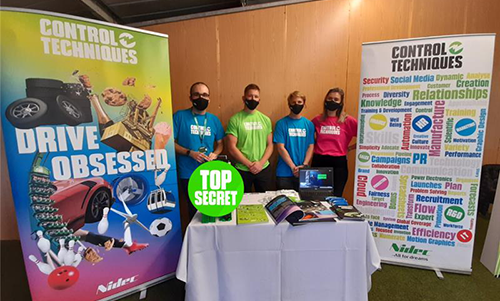 Control Techniques was at Welshpool High School Recruitment fair. The event took place at the Cfen Lea conference centre in Dolfor.

6th form students had the opportunity to learn about Control Techniques and the career paths we offer. Rhys Williams from R&D, Blaine Morgan from HR, and João Serralha and Nikita Schooling from Global Marketing represented the company at the event.

Students were engaged in learning about what we do, the technology behind a drive, and how they are used across different industries. Our "box of wonders" strengthens that same message, and students were curious about how CT drives are part of the manufacturing process of the products in the box.

Students were really curious about how a drive makes a motor spin, and with the help of Rhys and a top secret project, we gave them the opportunity to get hands-on experience.

Global Marketing developed a stunning recruitment pack ready for these events, and that will undoubtedly raise brand awareness and make our brand stand out in any corner of a room or conference hall.

Control Techniques Instagram account was also very active with regular updates from the event, videos, photos and quizzes.