Control Techniques recently attended the finals of the 2022 AEMT Awards ceremony. Having entered the newly released Commander S AC micro drive with its Marshal app into the Product of The Year category, we were delighted when it reached the final stages of the competition.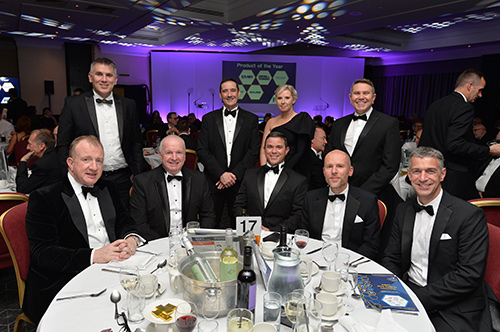 What is the AEMT?
The AEMT is The Association of Electrical and Mechanical Trades founded in 1945. It is an International Association representing electrical and mechanical service and repair companies.
Members tend to manufacture, distribute, install, service, maintain, and repair, electric motors, drives, pumps, fans, gearboxes, generators, transformers, switchgear, and ancillary equipment.
The Association also includes Associate Members that manufacture and distribute electric motors, drives, pumps, fans, gearboxes, etc., and the manufacturers and suppliers of components such as insulation, varnish, wire, and bearings. Other Associate Members supply the test and repair equipment used during manufacture and overhaul.
The Awards take place each year to showcase the very best achievements from the electrical and mechanical trades sector in a global celebration of business and professional excellence.
With a judging panel including independent experts, representation from the press, and sponsoring companies, Commander S & Marshal made it through a rigorous judging process. Although we didn't win on this occasion, we congratulate all the winners and are proud to have made it to the final rounds.
So, what got us here?
Commander S was designed from the ground up. In the developmental stages, we analysed the marketplace, our competition, and the sales channels we would need to develop and gained a deep understanding of customer requirements. Our engineers explored how new technologies could elevate the user experience. Embedding NFC technology onboard the product, revolutionised how the user interfaces with the drive. By teaming Commander S with the Marshal app, drive commissioning, monitoring, diagnostics, and support have never been easier.
We're not just talking a big game here; customer feedback has confirmed that Commander S is the real deal. With three awards, the NFC Innovation Award 2022, the IF Design Award 2022, and the Powys Business Award 2022 for Technology and Innovation, under our belt, we know that Commander S is recognised as a product that is not only eye-catching but delivers a mighty performance and is a design triumph.