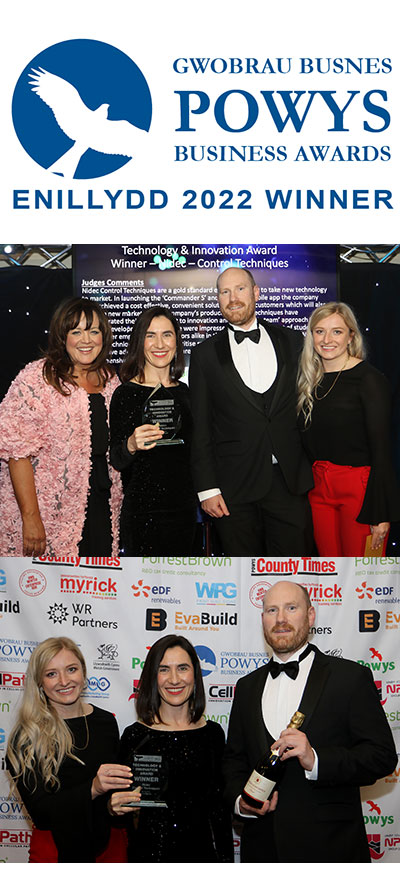 Control Techniques have triumphed again. This time coming out on top at the Powys Business awards 2022. Control Techniques has its headquarters in Powys, Wales, and winning this local award is a testament to our commitment to operating a global manufacturing business in the heart of rural Wales.
About the POWYS BUSINESS AWARDS
The Powys Business Awards are designed to showcase the extent of business talent and the quality of companies and individuals that operate in Powys. Control Techniques entered the Technology & Innovation award with our latest AC micro drive product Commander S with its Marshal app.
What were the judges looking for?
This award is aimed at companies that can demonstrate how they are using technology and innovation to keep them at the cutting edge of industry.
We needed to show that Commander S and Marshal was a successful innovation and that it had all the qualities to solve problems, have commercial relevance, and could deliver a competitive technological advantage.
Why did we win?
Commander S and Marshal stood out with their outstanding modern design and innovative technology, incorporating NFC technology onboard the drive. Another important factor was the collaborative teamwork involved in getting the drive to market. On reaching the finalist stage we were able to host the judges and explain to them the process involved with bringing a new product to market.
We were able to show how Commander S and Marshal have been designed with the user in mind. We conducted extensive research to understand the users' needs and to build a viable solution. Users want a drive that is fast to install, easy to commission, and reliable and this is how Commander S addresses those needs:
Fast to install
The sleek curved design of Commander S optimises component layout for a small footprint and easy access to terminals. The click-on/click-off DIN rail mount makes installation remarkably easy. The control terminals are angled and offset screw connectors for easy access. The marking for the terminals is laser printed for easy identification.
Easy to commission
Commander S comes with an app interface called Marshal that provides guided setup routines, making it possible to commission the drive in only 60 seconds. The app is free of charge and the data transfer between the mobile device and Commander S is powered by NFC technology.
Reliability
The power terminals are finger-proof for safe operation. The control boards are 100% conformal coated ensuring protection against moisture, corrosion, and dust. Commander S comes with a free 5-year warranty. The feature set has been optimized to allow for continuous run eve during unusual loadings or operating conditions.
Massive achievement
This is an outstanding local accomplishment for everyone who lives and works at Control Techniques in Newtown, Powys and beyond, to be recognised as pioneers in technology and innovation.
Our Global Product Manager, Roxana Suteu, and Product Development Director, Dr Richard Gibson went along to the awards ceremony and were delighted to pick up the award on behalf of everyone at Control Techniques.
Roxana stated that "Considering what we are doing and how we want to be seen in the market, this is a valuable award and great recognition for Control Techniques."
Judges said "...Control Techniques have demonstrated their commitment to innovation and the 'whole team' approach to the product development journey. We were impressed by the involvement of students, early career employees, and directors alike in the R&D process..."