The Nidec Leroy-Somer Digistart soft starter has been upgraded and brings fresh features with the D4 and D5 ranges. The new series are designed to better meet the productivity needs of fixed-speed equipment, and incorporate the latest control and protection technologies as well as embedded intelligence functions. The new starters not only start and stop the machines accurately and efficiently, they can also help minimise the energy bill and improve operational performance by transmitting key data to operators and automation control systems.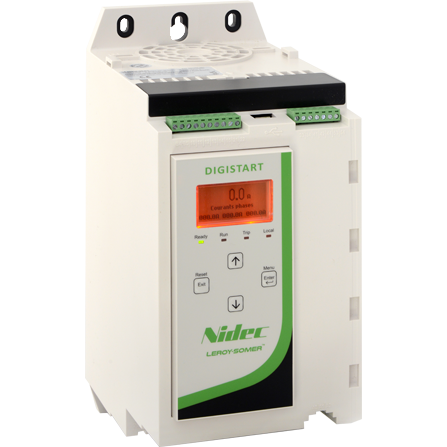 Based on its extensive expertise in power electronics, Nidec Leroy-Somer launched a few years ago the Digistart range, integrating the latest electronic control technologies.
Today, the range is being modernised and now offers further efficient functions designed to provide a more user-friendly, ergonomic, simpler and richer user experience.
Digistart is available in two models, both compatible with all three-phase 200-525 V, 380- 600 V or 690 V networks:
- The D4 model (24-580 A) with its ultra-compact design is primarily dedicated to simple applications or redundant electronic drive solutions.
- The D5 model (24-1620 A) incorporates more features, offering one of the most powerful electronic controllers for asynchronous motors on the market.
The communication functions of this new series have been significantly improved compared to the previous generation, to allow for the easy adjustment of basic parameters.
Thanks to an improved display and more intuitive connectivity, it is now easier to access useful information whenever needed. The new USB port makes it possible to download and store starter performance data, helping the user to efficiently manage the system.
Programming and automation functions allow for more customised operations, minimising the need for manual action and ensuring continuous operations. At last, a dynamic QR code can be generated on the display and read by the Nidec Leroy-Somer Digistart app installed on a smartphone, making it easy to access event logs, prepare a report, diagnose and view the history of the last 3 faults or simply view product documentation.
Digistart uses a soft start technology with built-in adaptive acceleration control through 4 control modes to cover all requirements and ensure the best performance for any application.
Digistart also includes starter, motor and system protection functions as well as alarms to prevent breakdowns. If a problem arises, the Power Through and Emergency Run functions have been designed to continue to operate in degraded mode.
A robust model with a tough design for all environments, including the harshest environments, Digistart offers immediate and intuitive access to configuration menus for applications such as pumping, ventilation, conveying, compression, crushing, etc. This adaptability is strengthened by business smart cards used for specific functions and Inputs/Outputs designed to meet the needs of a specific industry or application. In particular, the pumping card allows the sensors in question to be connected directly to the Digistart. On this basis, there is no need to install additional components, as generally required to provide this level of information and control functions specific to a system.
In terms of energy efficiency, Digistart a built-in bypass to optimise energy consumption. Thanks to this device, energy savings are maximised for fixed-speed applications. In addition, the internal bypass simplifies the installation process and reduces the overall dimensions of the equipment. No additional filters are required and system losses resulting from harmonics are eliminated. This bypass also reduces heat loss during operation.
The Digistart soft starter has been designed to make it easier to control IE3 induction motors from the Nidec Leroy-Somer IMfinity range. The controller features a new adaptive control system able to read the characteristics of the motor during the first start/stop and then adjusts control to optimise performance. Simply select the most appropriate profile for the load type and the soft starter will automatically manage the smoothest possible acceleration for the load.
Digistart is the most efficient control mode for a fixed speed and variable load system.
Further information and related documentation can be found on http://lrsm.co/digistart-en