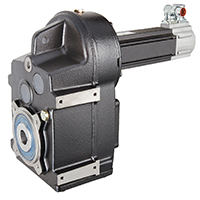 Backlash from 10 to 30 arcmin (40 arcmin for Mb4202)
Ratios from 5 to 90 (623 for Mb4202)
Mb Dynabloc is a range of compact, versatile geared servo motors for applications requiring standard backlash.
The worm gearbox provides quiet operation even at high torque. The space-saving right angle design and wide choice of mounting forms, output shafts and operating positions enables easy integration into different machines.
The models MB 4101 and Mb 4202 are fitted with compact Unimotor hd servo motors. All other Mb Dynablocs are fitted with Unimotor fm flexible servo motors making them ideal for applications with high inertia loads where continuous torque is required.