KBVF 4G NEMA 4 / IP66
Hybrid AC Drives Designed and Customized for PMAC Motors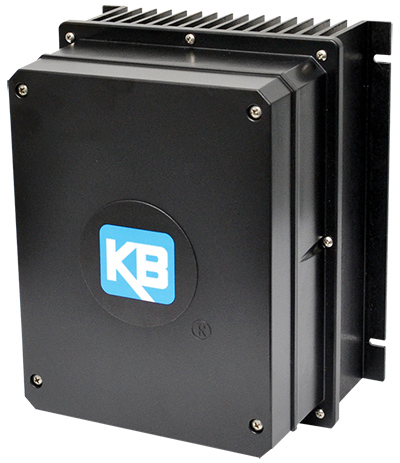 KB Electronics continues its commitment to manufacturing high-quality, energy-efficient AC drives and DC drives by introducing the next generation of its perennially popular KBVF Hybrid AC Drives. Our 4th Generation (4G) KBVF Hybrid AC Drives now feature IP66 enclosures suitable for both indoor and outdoor use. We've designed these drives to mesh well with permanent magnet AC (PMAC) motors, sometimes referred to as either brushless permanent magnet (BPM) motors or permanent magnet synchronous (PMSM) motors. Press Release
The easy-to-install KBVF 4G Hybrid AC Drives are customized to suit requirements for 1 – 3 HP PMAC motors. They're also built to meet IP20 and IP66 / NEMA 4 rating requirements, with both types offering a highly competitive solution for running BPM motors.
We've added our proprietary sensorless, open-loop control algorithm to this product, which is specifically designed to work with both induction and BPM motors.This makes encoders unnecessary for these drives while still providing excellent torque versus speed levels. The KBVF 4G footprint also provides the opportunity for mounting directly onto the motor. Since we typically pre-tune these drives for customer applications, they offer the convenience of out-of-the-box use. Data Sheet
Common applications for these high-performance drives include:
You won't need to waste time, effort or money buying and installing separate interface modules thanks to the KBVF 4G's isolated user interface (for analog signal input, Forward-Stop-Reverse, Run/Fault Relay contacts). Add in its microprocessor digital technology, simple trimpot adjustments and selectable jumpers (rather than complicated programming), and you'll see why these KBVF 4G Hybrid AC Drives are so popular.