Buzzing for Business
JUN 22, 2022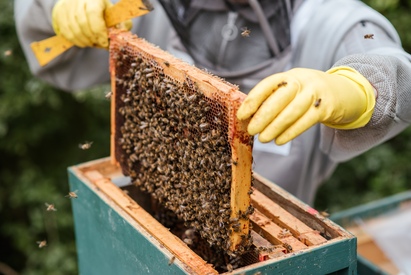 Control Techniques AC drives power, an affordable, easy-to-use, delicate honey extraction tool for beekeepers in the Czech Republic and beyond.
For beekeepers globally, the most common method of harvesting honey is with an extractor. It is cleaner and allows them to place the wax back into the hive for the bees to refill. Czech family-owned company Jaroslav Týča's main product is the 6RZ reversible honey extractor. The tool separates honey from honeycomb for six frames. The fully automated honey extraction machines use centrifugal force for the separation process. Jaroslav Týča turned to recommended Control Techniques for drives for the extractor's centrifuges.
The Control Techniques Commander C200 AC drive was just the business to ensure the delicate automatic operation of the company's honey extractor. The drives power the process of turning each frame around, enabling the honey to be removed. Commander C200 integrated logic controller was programmed to run five precision cycles.
The Commander C200 is simple and easy to use and includes a built-in programmable logic controller. The PLC allows a simple control program to eliminate the need for a master control system. The resulting product is simple to operate, user-friendly, and affordable.
Jaroslav Týča, the company owner, said, "We are more than satisfied with our drives and appreciate the technical support and assistance we received when programming the inverters. The Control Techniques team wrote the program that best suited our needs! I had no idea before that a simple inverter could perform tasks without an expensive master control system."