Control Techniques Partnership Proves A Powerful Package
OCT 21, 2021
What started as an operation to repair and refurbish old bag making machines Control Techniques' Unidrive M700 drive helped South African company Technimac to realised that they could design and manufacture from scratch, using a high percentage of local content.
Multiple components are required in the company's high-tech, internationally acclaimed side-seal and bottom-seal bagmakers. Technimac's strategy has been to form long-standing partnerships with the suppliers of these components, ensuring ongoing support and availability of parts. Gerhart comments, "However, over the years, we have learned that it isn't only about the technology that these partners provide, but the level of service which helps us achieve success".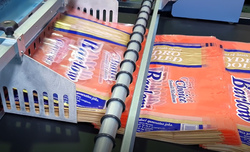 Technimac has been using Control Techniques servo motors, gearboxes, and drives in their machines since 2004, and the relationship has thrived. Gerhart explains, "Previous suppliers offered adequate products, but their support was left wanting. We started using Control Techniques products and quickly found that their team met our capabilities and response time expectations. The partnership has since grown to include software support. Gerhart adds, "It was when they started developing software with us, specifically aligned to our needs and applications, that we knew we had the right partners.
"When businesses choose to work with us, they know they are getting more than just a product. We pride ourselves in our after-sales support and fast availability of spares in the region, which means our clients don't have to wait for a part to be shipped. Within 24 hours, we can deliver what you need – with the bonus of a field application engineer ready to ensure our product is fit for purpose and installed as required." Bruce Grobler, Vice President Middle East & Africa.