How to Register
Visit www.controltechniques.com/5yearwarranty or scan the QR code on the front of the drive and click on the registration button.
The form is split into 2 sections:
Product information – relating to the drive being registered
Contact information – required contact information in order to confirm and validate the warranty registration
Complete the 'Product Information' section: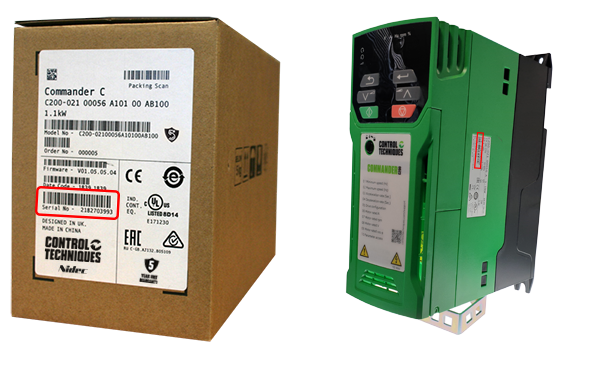 Purchase Date – the date you purchased the drive (Please note that the registration should be completed within 6 months of the purchase date)
Supplied By – where you purchased the drive
Industry & Application – select the Industry & Application that the drive is going to be used in. If selecting the application as 'Other', please enter the application information in the 'Other' field
Complete the 'Contact Information' section with the name of the company and a relevant company representative
Select if you would like us to keep you updated with company news, events, products, services and other important announcements
Please ensure that you have read and understood our warranty terms and conditions and privacy notice.
Click 'Submit Registration'

You will see a message to confirm that the form has been submitted successfully

You will also shortly receive email confirmation of your warranty registration, or if the registration failed, information explaining why.
Please see the FAQ's and Warranty Terms & Conditions for more information.
If you have any further questions or require assistance, please contact your local Drive Centre or Distributor.