Drive Pioneers Win NFC 2022 Innovation Award
JUL 04, 2022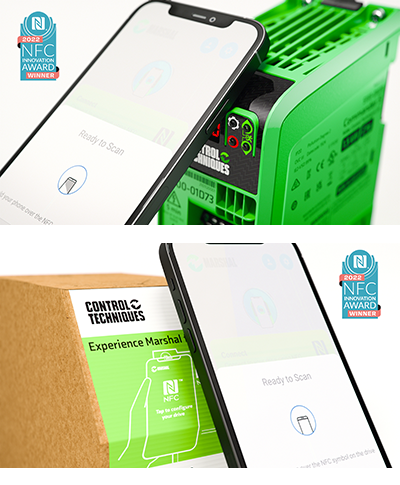 Control Techniques is committed to delivering high-performance, high-quality, electric drive products that enable innovators to deliver world class solutions and machines. Launched in April 2022, Commander S brings class-leading ease of use through the companion app Marshal, minimising the time and experience needed to benefit from using a variable frequency drive. The brilliance behind the Commander S and Marshal app, tap and go has been recognised by The NFC (near field technology) Forum, which aims to empower organisations to deliver secure, reliable, and intuitive tap-based interactions around the globe. For the contactless lifestyle The NFC Forum is the industry group, alongside hundreds of member companies they monitor and host technical committees to publish standards to develop the use of; Near Field Communications, data structures and compliance, and enable NFC technology to deliver a constantly positive user experience.
Sponsored by well-known and revered companies such as Google, Apple Inc, Sony, Huawei Technologies Co and more, we are thrilled to have been recognised and even more so, to have won.
So, how did we win it? Commander S and Marshal is the world's first drive with app control, as standard on every drive, using NFC communication it enables users to quickly converse with their drive. Imagine programming your drive without taking it out of its packaging and after installation performing configuration and diagnostics, with it powered on or off; Commander S and Marshal does just that. Our drive is the complete package, making simple applications simple. We've ensured fast installation and fast configuration because we value the time of our customers.
We brought together our drive obsessed engineers who are equally obsessed about quality and reliability to create a product that would be unmatched on the market, and we have done just that. Every consideration was taken when designing Commander S and Marshal, to ensure ease of use, we were customer focused, and listened to your issues. We provide a free 5-year extended warranty that's easily activated from the Marshal app to give piece of mind. The world isn't slowing down and with Commander S and Marshal our customers won't need to either.