VFDs for Water and Wastewater
With the increasing demands of climate change, to a growing population requiring more food, energy and generating greater levels of waste than ever before, it's imperative that water management solutions are dependable and efficient. With years of experience and expertise Control Techniques is the perfect partner to support water solution providers. We supply highly efficient, compact and reliable variable speed solutions for the treatment and movement of water. Depending on the scale of the solution required Control Techniques has a suitable drive solution to provide a cost effective and scalable set of features to match your operational requirements.
Key benefits
We take the risk out of choosing a dependable solution. Our drives are packed with dedicated pumping features and protection giving you piece of mind that your water management system will continue to run efficiently and effectively even in challenging environments. Our knowledge and support are unquestionable giving you the confidence to choose Control Techniques as your water management partner. This same level of confidence can be applied to both on and off-grid water management solutions with our dedicated solar pump solution. You'll see the benefits in reduced running costs, lower energy requirements, less stress on you and your equipment, reduced maintenance and a quick return on investment.
Compact size
Improving throughput and availability
Enhanced connectivity
Reduced energy consumption
Minimized downtime
Typical applications include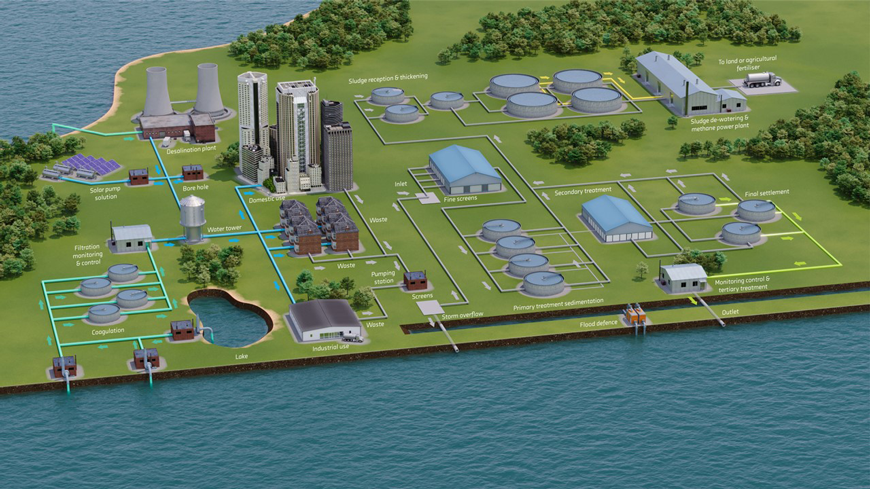 Sea Water Desalinisation:
Sea Water Intake
Reverse Osmosis Process
Boosters
Auxiliary Water Movement
Water Transmission Systems:
Pump Stations
Irrigation Systems
Water Treatment:
Intake and Influent
Effluent
Boosters
Elevate Tanks
Wastewater Treatment:
High and Low Lift Stations
Clarifiers
Influent pumps or screws - Pumping sewage to the wastewater treatment plant
Sludge pumps - Transporting "wet" sludge into the centrifuge to dry
Surface aerators/compressors - Oxygenating sewage water to activate bacteria
Submersible mixers - Keeping the sewage water moving through aerations tanks
Effluent pumps - Pumping purified water in the river or canal
Flood Control Systems:
Pumping stations for level drainage
Tidal energy turbines
Related products: