Elevator Solutions
3 - 400 hp (2.2 kW – 250 kW)
230 V | 460 V | 575 V | 690 V
Dedicated Drives For Class-Leading Ride Comfort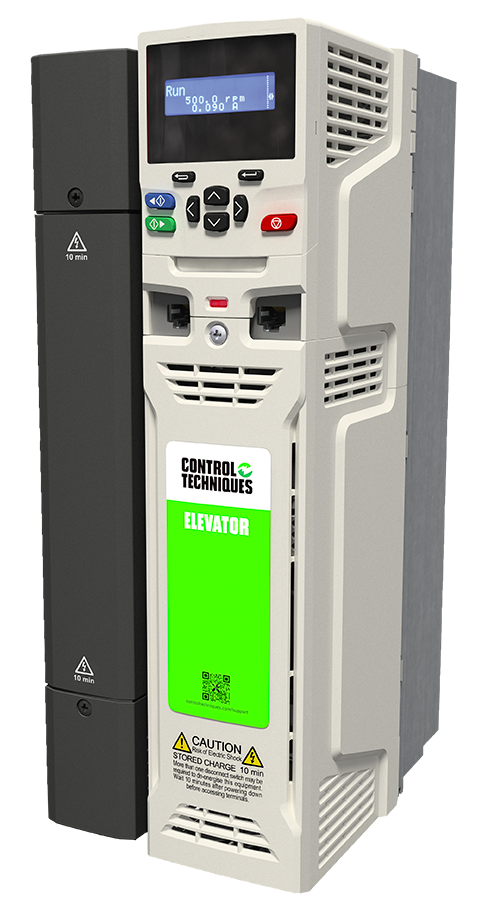 Control Techniques
is a leading supplier of
AC drive technology
for the elevator industry, with over 3 million elevators in operation with our control equipment worldwide.
Rapid set-up and adjustment
Optimum ride comfort
Enhanced elevator data logger
Backed by our global network of Drive Centers we provide local expertise and support, along with quick delivery of robust and dependable products.
Our elevator drive solutions work for any size of building. Whether it's a small residential building or a luxury high rise, new build or modernization projects, we make every step of the process as easy as possible from product selection to installation, setup and service.
Introducing the dedicated Elevator Drive
Adding value at every stage of your project



Freedom to design

Broad power range, compact form factor
Match any control interface, any protocol
Work with any motor, any feedback device
Multiple mounting options
Dynamic braking and regen solutions
Back-up power and rescue modes

Effortless installation and commissioning

Elevator specific menu structure
Stationary autotune
Pluggable drive terminals
Robust cable management
Parameter storage, cloning and security
Keypad with backlit LCD display
Virtual terminal for access through the lift controller
PC tools for set-up and tuning

Class-leading performance

Creep-to-floor and Direct-to-floor operation
Selectable start, run, stop gains
Load cell compensation and start locking
Start optimiser to overcome stiction
Fast start mode
Floor sensor correction
Short floor landing operation

Maintenance and diagnostics support

Selectable status display parameters
Diagnostics with timestamping
Built-in data logger
Normal Terminal Stopping Device support
Low voltage rescue mode
Blocked elevator car release
Travel counter to help keep track the lifetime of plastic ropes