The livestock industry includes raising and maintaining animals for the production and consumption of milk, eggs and meat. KB Electronics has supported the livestock and farming industry for many years. Our motor drives are ideal for numerous agriculture applications requiring ventilation and exhaust fans, as well as pumping water for irrigation and waste management, among many others.
Another common aspect of the livestock industry is livestock farming, which includes animals raised for recreational activities (such as racing or riding) in addition to animals used for performing heavy labor. Horse walkers, machines used for training and exercise of horses, are an excellent application for KB drivesr for irrigation, and waste management. The Livestock Industry also pertains to animals raised for recreational activities such as racing or riding. Training "horse walkers," for example, use KB Drives.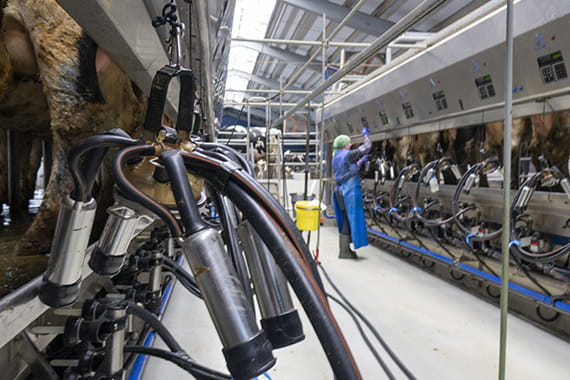 KB AC drives are available in NEMA 4X / IP65 enclosures, which make them ideal for either indoor or outdoor use, and are washdown and watertight for durability and long-term use. The available liquidtight fittings kit provides added protection for sealing wire and cable egresses. KB's NEMA 4X / IP65 drives are also available with UV protected labels and a white FDA-approved finish.
All our motor controls are off-the-shelf and ready-to-use, out-of-the-box drives that are available through our worldwide distribution centers. KB drives can be also be customized for OEM applications with quick turn-around times that include tailored hardware and software to fit the unique needs of each specific application and use.
Typical Applications for Livestock Farming:
The livestock and farming industry requires a daily attention to detail just like any other aspect of agriculture, and it's often necessary to use some form of automation or assistance from motor drives to keep things running smooth and efficiently. Some of the most common livestock and farming applications that benefit from motor drives include:
• Horse walkers
• High volume low-speed fans (HVLS)
• Building exhausts
• HVAC
• Conveyors
KB Motor Drives for the Livestock and Farming Industry:
KB Electronics offers standard off-the-shelf and customized OEM drives to accommodate the most demanding needs of the livestock and farming industry.
Popular KB Drives for Livestock and Farming:
• KBAC
• KBVF
• COMMANDER C200 & C300
To find out where to buy KB Motor Drives for the farming or livestock industry in your area, visit our Distributor Locator page. We also have a customer service contact form that can be used to communicate directly with us. It would be our pleasure to provide you with a long-lasting, reliable and energy-efficient solution that best fits your individual needs or the needs of your company.