KB Electronics (KB) is committed to fulfilling its responsibilities to the community regarding environmental concerns and product safety. Our goal is to continually improve on providing safe, energy-efficient and environmentally friendly products. KB's dedication to the environment and the community is demonstrated by our commitment of resources to support this policy and to achieve the stated goals. We have shown our commitment by our continued efforts to achieve full compliance with worldwide safety and environmental regulations.
• RoHS, RoHS II, RoHS III
• Conflict Minerals
• REACH
• UL (Underwriters Laboratories Inc.)
• CE
RoHS, RoHS II, RoHS III
The RoHS directive aims to restrict certain dangerous substances commonly used in electronics and electronic equipment. RoHS compliant components are tested for the presence of the following: Lead (Pb), cadmium (Cd), mercury (Hg), hexavalent chromium (Hex-Cr), polybrominated biphenyls (PBB), and polybrominated diphenyl ethers (PBDE). For cadmium and hexavalent chromium, there must be less than 0.01% of the substance by weight at raw homogeneous materials level. For lead, PBB, and PBDE, there must be no more than 0.1% of the material, when calculated by weight at similar raw materials. Any RoHS compliant component must have 100 ppm or less mercury, and the mercury must not have been intentionally added to the component. RoHS Directive 2002/95/EC went into effect on July 1, 2006.
RoHS Directive 2011/65/EU (RoHS II) became effective on January 3, 2013. RoHS II addresses the same hazardous substances and the corresponding maximum concentration limits as the RoHS Directive. All products meeting the substance restrictions of RoHS I remain compliant with the substance restrictions of RoHS II. The scope of RoHS II is expanding to phase in the previously excluded categories of medical devices, monitoring and control instruments and other electronic and electrical equipment not covered in RoHS II. Also, CE will require conformity to RoHS II to use the CE marking.
To continue to promote green products, we (KB Electronics) have evaluated all the material declarations provided to us by our suppliers. As a result, KB Electronics is fully compliant with the requirements outlined in the RoHS III Directive (EU) 2015/863, as defined in the council of June 4, 2015, with the inclusion of four additional substances. (Phthalates)
Submit requests for product regulatory documentation – RoHS, REACH, Conflict Minerals, and other environmental documentation to Controltechniquesproductcompliance@mail.nidec.com
*Manufacturers Part Numbers are required*
Proposition 65
Consistent with our principal values, KB Electronics strives to provide high quality, safe products for our customers. We are dedicated to working with the material and component suppliers to meet consumer product safety requirements applicable to our products, including California Proposition 65, also known as the Safe Drinking Water and Toxic Enforcement Act of 1986. This refers to the California legislation that was intended to inform citizens about exposures to harmful chemicals and prevent chemicals known to cause cancer, birth defects or reproductive harm from entering the state's drinking water sources.
Based upon KB Electronics' knowledge of our business operations and materials used, none of the chemicals listed by the California Environmental Protection Agency are used in our products in a form regulated under California Proposition 65, with the exception of KB products with enclosures containing the suffix (E) including gaskets and/or seals manufactured from polychloroprene (Neoprene), which is the polymer of chloroprene. Products can be easily identified by the label shown below. Specific product information is available on request.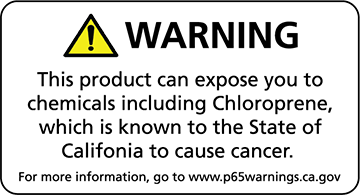 Conflict Minerals
Section 1502 of the Dodd-Frank Wall Street Reform and Consumer Protection Act (Dodd-Frank Act), passed in July 2010, is an attempt to curtail rebel groups in the Democratic Republic of the Congo (DRC) from illegally using profits from the minerals trade to fund their activities. Section 1502 is a disclosure provision that requires individual companies to determine whether their products contain conflict minerals and report their findings to the Securities and Exchange Commission (SEC) on an annual basis.
Presently, KB has received declarations from all of our suppliers that they are aware of the Dodd-Frank Act. All of our suppliers have, or are developing, processes to ensure that there are no "Conflict Minerals" in the parts or materials that they provide that are sourced from illegal mines in the Democratic Republic of Congo (DRC), or any of its contiguous countries. In common with many other downstream companies involved in tracing the origin of "Conflict Minerals," it will take time to identify all smelters or refiners involved in the thousands of parts and materials used by KB. Upon discovery that materials used by a supplier may originate from an illegal mine, KB will implement immediate corrective action.
Submit requests for product regulatory documentation – RoHS, REACH, Conflict Minerals, and other environmental documentation to Controltechniquesproductcompliance@mail.nidec.com
*Manufacturers Part Numbers are required*
REACH
REACH is the European Community Regulation on chemicals and their safe use (EC 1907/2006). It addresses the Registration, Evaluation, Authorization, and Restriction of Chemical substances. (REACH). The law entered into force on June 1, 2007.
REACH aims to improve the protection of human health and the environment through the better and earlier identification of the intrinsic properties of chemical substances. At the same time, REACH aims to enhance innovation and competitiveness of the EU chemicals industry. The REACH system's benefits will come gradually, as more and more substances are phased into REACH.
All products manufactured and/or supplied by KB Electronics, Inc. are defined as "articles" in accordance with REACH Article 3(3). SVHCs (Substances of Very High Concern) will not be released if these products are used within the manufacturer's ratings and specifications.
Since these products contain SVHCs less than 0.1 (%) mass and tonnage in excess of 1 ton per importer per year, the requirement in REACH Article 7(2) to notify ECHA does not apply. Therefore, the REACH Article 33 requirement to provide safe use information to our customers does not apply. KB will continue to monitor new or revised legislation to include updated materials to the SVHC list and make any necessary changes.
Submit requests for product regulatory documentation – RoHS, REACH, Conflict Minerals, and other environmental documentation to Controltechniquesproductcompliance@mail.nidec.com
*Manufacturers Part Numbers are required*
UL
UL is an independent organization that tests and inspects products to ensure that they are physically and environmentally safe. This organization's goal is to prevent the loss of life and property.
KB products are UL Listed and Recognized under the following Standards:
• E121028
• E51028
• E188974
• E198580
UL-Certification-Documents.pdf
CSA
The CSA Group (formerly the Canadian Standards Association; CSA) is a standards organization that develops standards in 57 areas. CSA publishes standards in print and electronic form and provides training and advisory services.
CSA is a global provider of testing, inspection and certification services for products from a wide range of market sectors and a leader in safety and environmental certification for Canada and the US. One of the most significant standards development organizations in North America, the CSA certification mark appears on billions of products worldwide.
CSA-Certification-Documents.pdf
CE
CE stands for "Conformité Européene," which is French for "European Conformity." CE is a mandatory mark for certain product groups to be sold on the European market – specifically into the EU. The requirements are set out in European Directives that cover health, safety and environmental protection legislation.
KB motor speed controllers and accessories are components intended to be installed in a system or a machine and meet all of the CE requirements when used in accordance with all directives. Compliance of the system as a whole is the responsibility of the system integrator for the EMC Directive 2004/108/EC and 2006/95/EC Low Voltage Directive.