Join the Drive Obsessives!
Control Techniques is a global drives specialist with a long entrepreneurial history. As part of Nidec, the largest motor manufacturer in the world, we are heavily backed to be the challenger with a big name in the drives industry.
Our manufacturing and R&D facilities in the heart of Mid Wales is where it all started and it's part of our heritage. We pride ourselves on our products made in Wales and the service we provide, not only from Newtown but also from our network of Drive Centres around the world.
We are drive obsessed and our ambition pushes us to be the first name for drives. Our can-do attitude and expertise often lead us to partner with customers to innovate and solve problems where others won't.
Becoming a drive obsessive is something to be proud of and every one of us, no matter what our job title, plays a massive part in delivering drives the Control Techniques way.
We are looking for the best people, those continuously striving for excellence through talent development with the ambition to achieve success.
We're GLOBAL!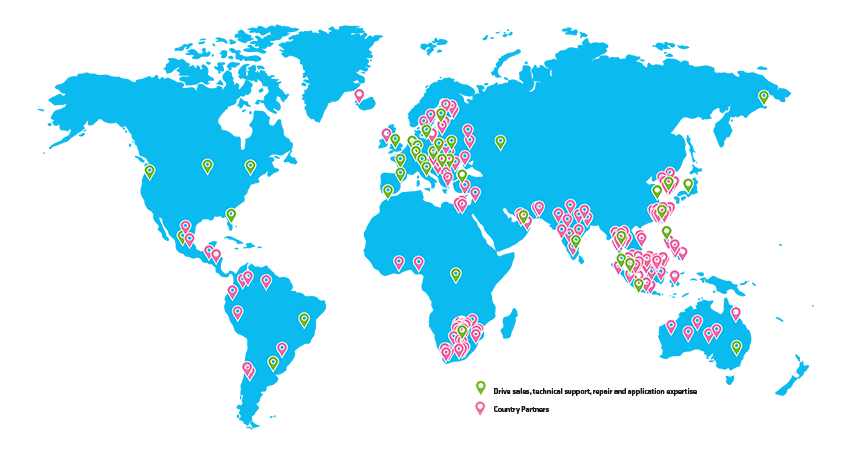 What it's like to work for us...
Control Techniques is a progressive drive manufacturing company with its headquarters in Newtown, Powys. We are a worldwide company with a proven track record for growing a business.
We have fantastic opportunities in Operations, R&D, Finance, HR, Marketing, and Product Management for forward-thinking individuals who want to be part of a thriving global drives business. If you are looking for a role where training and career development are as high on our priority list as yours. Look no further.
Working at Control Techniques offers a sense of family spirit and togetherness with a strong focus on progression. It's also about wellbeing and offering a safe and supportive environment to work and grow, it's a place where, if you have the ambition, the possibilities are endless.
Being based in Mid Wales, employees have the best of both worlds, to live in a beautiful part of the country, with all that has to offer, but still close enough to enjoy the hustle and bustle of large city life due to good rail links to major towns and cities.

So, what is a drive anyway?
Firstly, let's talk about electric motors. Electric motors are everywhere! Almost every mechanical movement the world over can be created by an electric motor. They work by turning electrical energy into mechanical energy, or motion. But when they're directly connected to the electrical supply, the motor's speed is fixed, whether the task requires that level of constant power or not.
By positioning a drive between the electrical supply and the motor, power is fed into the drive, and the drive then controls and regulates the power that is fed into the motor. This allows the drive to control the speed, direction, acceleration, deceleration and torque of the motor.
The drive does this by changing a constant frequency, constant voltage supply into a variable frequency, and variable voltage supply. By continually calculating and adjusting the frequency and voltage, the motor receives only the power it needs. Resulting in lower energy costs, lower maintenance costs, and a smaller carbon footprint.
Because one product can never fit all applications, Control Techniques manufacture many different types of drive. So whatever the industry or application, there is a drive to match requirements. They really are the unsung heroes that move the world!