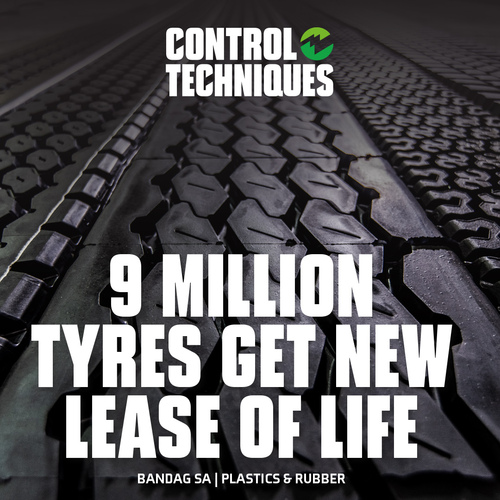 The Challenge
Bandag's manufacturing facility comprises various multifaceted operations starting from processing raw material, right through to extruding, pressing, finishing, trimming, quality control, and eventually warehousing.
First in the operation line is the mixer – an enclosed automated mixing machine - that breaks down rubber and other constituents into working compound batches of approximately 220kg — an energy-intensive mechanical operation requiring consistent speeds and considerable force.
For a plant of this nature to run efficiently, it is essential to continuously look for new ways to improve the use of resources and decrease downtime, using ever-evolving industrial technology. This was Bandag's aim as it looked to maximise the motor performance and the system reliability of the mixer, that previously used analogue DC drives, which became increasingly unreliable. Bandag then switched to Control Techniques' Mentor MP digital DC drives – locally distributed by Nidec Automation.
The Solution
Having previously installed Control Techniques AC drives on the plant's extruder and Calendar Mill (a process that forms the exudates and processes cushion gum), Multispeed Transmissions concluded that the mixer operation would also benefit from a similar installation.
The Unidrive M700 AC was selected. A high-performance motor control system that provides ultimate control flexibility in high specification industrial applications. Two Unidrive M700's are now connected to a common gearbox, which evenly shares the load throughout the operation.
Impressed? Contact us for your automation needs
The Benefits
The recent installation of Control Techniques' Unidrive M700 motor control system at the Bandag plant, has helped it achieve energy savings and reduced downtime, improving business performance, allowing the company to remain an industry leader.
The drives were each rated at 750 kW but scoped up to 1 MW to cater for future use. Jim Fraser, Multispeed Transmissions, said, "We upscaled the project for future developments – the motor, the transformer, and even the drive panel. Designed so we can slot an extra module in, so it is future-proof."
Control Techniques' Unidrive M series increases the energy efficiency of all applications. The plant has seen an approximate 10% monthly energy saving since deploying the technology - not only saving money but contributing to a lower carbon footprint. The drives feature a low power standby mode, and the DC bus configuration recycles braking energy within the drive system. Additionally, the drives' magnet motors offer exceptional efficiency across all operating speeds.
In addition to the energy savings, the plant has seen higher production efficiencies since installing the system.