Rapid Turn Around Saves the Day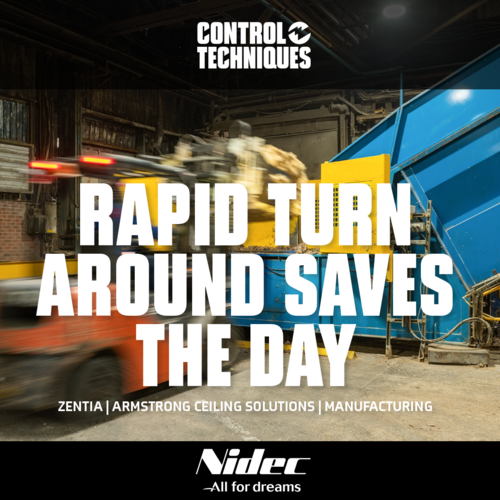 The Challenge
Approximately 20,000 litres of water and a ton of fiberglass form the ingredients for the ceiling tile construction's stock preparation stage. Central to the process is the pulper agitator. Zentia were let down by their current drive supplier, which could not deliver on time, when carrying out crucial updates to the application.
Kevin Ward, Zentia Control Systems Leader, says, "We could not wait for the drive we had ordered as we couldn't delay the project any further. The drive had to be in place to reduce the start-up load on the mains supply".
The Solution
Zentia turned to their local Control Techniques' sales engineer for a solution. Kevin explains, "Our Control Techniques' sales engineer had visited previously to discuss past projects. So, when we were stuck for parts, he was the first to come to mind."
In less than four days from order, backed up by onsite support, the Control Techniques Unidrive M700 was installed, providing a super speedy solution. The M700 drive controls the speed of the agitator, maximising throughput with superior motor control. The motion functions are carried out 'on the drive' to boost system performance.
Impressed? Contact us for your automation needs
The Benefits
"
The 2/3 days delivery for a 250 kW drive was amazing. We had been waiting six weeks for the previous drive before the supplier informed us of the delay, but they couldn't provide a time scale. Control Techniques stepped in, the pricing was highly competitive, and the "Connect" software made the setup very simple. We were also impressed with our dedicated field engineer to assist if required.
"
- Kevin Ward, Control Systems Leader, Zentia