Digitax SF Servo Package
50 W - 2 kW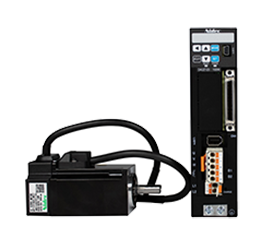 200 V
Analog or pulse train interface

Cost effective, compact & versatile
Responding to the needs of customers requiring low powered precision servo solutions, Control Techniques has introduced the Digitax SF Servo Drive and Motor Series.
This servo package has a power range from 50 W through to 2 kW.
Low Power, Easy To Use Servo Solutions

Ultimate Performance and Flexibility For Machinery Manufacturers
Cost effective, compact & versatile

The new Digitax SF servo solutions series integrates the Control Techniques servo portfolio with a compact, cost effective and easy to use solution for low power application requirements.

High performance drives with pulse train or analog interface and serial communication
A range of light-duty industrial motors available in several inertia levels to meet different application requirements

Robust & low maintenance

The Digitax SF servo solution is robust in harsh environments and low maintenance thanks to its ultra-low energy consumption magnetic encoder technology.

Easy to use servo drives & motors

Digitax SF is suitable for a wide variety of automated industrial equipment, such as semiconductor manufacturing, packaging, printing and textile machinery, as well as and other applications requiring speed, precision and accuracy.