Giving Back To Nature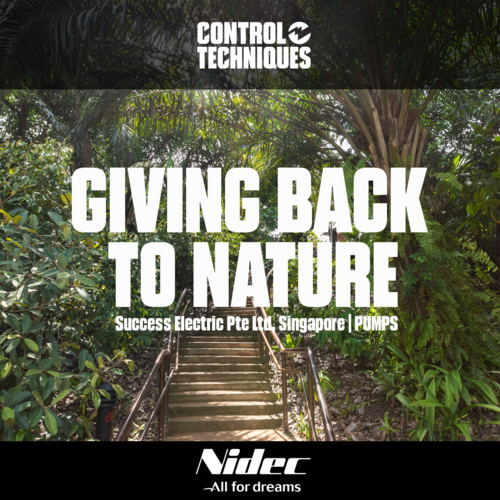 The Challenge
Singapore Botanic Gardens is the first and only tropical botanic garden on the UNESCO World Heritage List. Its new Gallop Extension is eight hectares of framed landscapes composed of native plants and forests, contributing to the gardens' rich heritage and its role in research, conservation, education, and recreation. As a natural extension of the gardens' nature area,
it covers the Rain Forest and the Learning Forest, educating visitors on forest ecology and conservation significance. With the new addition to the visitor attraction, the Botanical Gardens required an irrigation booster pump system to supply water to the entire Gallop Extension field of plants and forests. On winning the contract, Success Electric set about the mission to find the right drive for the job.
The Solution
Control Techniques' Commander C200 drives are integrated into Success Electric's Irrigation Booster Pump system controller. C200 controls and regulates the pumps to distribute the water supply to the entire field of native plants and forests at programmed times of the day and night, keeping the plants watered while saving energy and natural resources. C200 provides a low starting current while ramping up to full speed at 50Hz, thus reducing the overall energy consumption. The easy-to-use LED keypad and a parameter guide on the front of the drive allow the gardens' maintenance team to modify the pressure settings for the pump sets.
Impressed? Contact us for your automation needs
The Benefits
"The solution has reinforced the energy saving benefits that variable speed drives deliver. In this case, Singapore Botanical Gardens is making energy savings of 30%. With the compact and programmable Commander C200 drives, we were able to reduce the panel footprint, leaving more space for nature that visitors can enjoy." Anthony Yeo, Success Electric Business Manager.