1.0 hp – 200 hp (0.75 kW – 149 kW)
208 – 230 V | 460 V | 575 V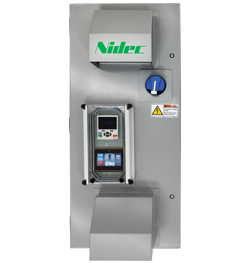 Control Techniques' packaged drives are ideal solutions for cooling tower and fluid cooling applications. Designed for outdoor mounting, these products offer the latest in microprocessor and IGBT VFD technology in a packaged controller, designed to control a cooling tower.
World class quality in design and manufacture, competitive pricing and uncompromising performance make Control Techniques packaged drives the most versatile and reliable cooling tower control packages available. They are also an excellent solution choice for other outdoor HVACR applications such as rooftop air handling units, air-cooled chillers, condenser fans, pump and compressors.
These packages are built in NEMA 3R enclosures with thermostatically controlled space heaters, ventilation fans and an optional Sun Shield. Complete control is available with standard options including a water temperature controller, basin heater contactor, fluid cooler spray pump starter, de-icing control and more.
Energy saving variable frequency drives in cooling towers
Packages are available at 208 – 230 V, 460 V and 575 V in power sizes up to 200 hp (consult factory for higher hp packages) in VFD with disconnect configurations. The base cooling package includes the HVAC Drive H300 in a two-contactor bypass configuration.
The latest IGBT technology reduces EMI/RFI emissions and provides a 50% reduction in dv/dt, allowing for longer motor leads and the elimination of costly output filters and reactors, as well as reliable operation in wet or humid ambient conditions.
In addition, all drive products are rated for continuous duty at 40°C ambient providing for year-round operation in severe outdoor environments.