What is a Flying shear?
The Flying Shear (also known as Flying Knife) is a common industrial application for cutting a continuous product to a set length at line speed. The main production process is not interrupted thus maximizing machine productivity.
Flying Shear Features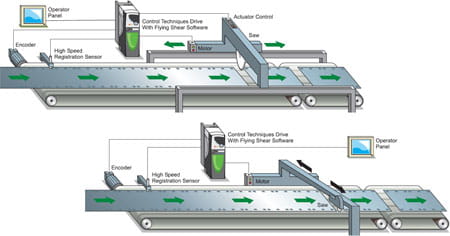 The cutting tool is typically mounted on a carriage that moves either parallel to the product flow or at an angle across the product flow. The Flying Shear drive accelerates the carriage to synchronize with the line speed, at this point the cut tool can be activated. The carriage then decelerates and returns to its original position ready to cut again. There are also many other similar applications where a carriage must be synchronized at line speed and these can also be accommodated using Control Techniques' Flying Shear control software.
The drive is configured using engineering units of choice such as mm or inches. This means that configuration of the system is easy, through an operator interface or by entering configuration parameters directly on the drive.
The fly profile is optimized for each application by breaking the synchronized, part of the profile down into three areas: settling time, cut time and tool rise time. The drive will then calculate the profile and perform checks to ensure that the parameters entered are achievable, given the length of motion available, and also the required cut length.
Typical applications include various types of cut-to-length machines, printing, packaging, depositors, punches, product inspection, or any other process where synchronization at line speed is required.
Flying Shear application solutions are available for Control Techniques AC, DC and servo drives. For more information click on the Contact Us link and a Control Techniques representative will contact you.
Specifications

The Flying Shear Solutions software has the following features:

Easy configuration
Hardware and software limits
Fieldbus interfaces are available: Ethernet, CTNet, Profibus-DP, DeviceNet, Modbus RTU, CANopen, Profinet-RT, EtherCAT.
Manual functions are available such as jogging.
High speed output can be used to fire the cutting tool.
Registration can be used to initiate the cut.
Batch counter and control.
Dynamic motion profile changes such as cut lengths, etc.
Real engineering units are used, defined as the number of Line or shear encoder counts per unit.
Resolution of the cut length may be entered to within 0.001 units.
Tool width compensation.
Profile optimization reduces the machines mechanical stress: The return profile is calculated to operate at the slowest speed and acceleration rate, and yet with sufficient time to achieve the next cut, either triangular or trapezoidal profiles are used.
A range of tool control modes.
Gap Control - a typical requirement for log cutting applications.
Parallel or angled shear carriages.
Registration, with or without windowing.
Can be used with SI-Apps-Plus and a Unidrive M700/M701 drive with SI-Universal-Encoder option module.