What is a Rotary Knife?
The Rotary Knife is a common industrial application, used to cut a web of material in to smaller lengths, without stopping the line. In this way, the main web production process is not interrupted by start stop indexing motion, allowing machine productivity to be maximized.
Features of Rotary Knife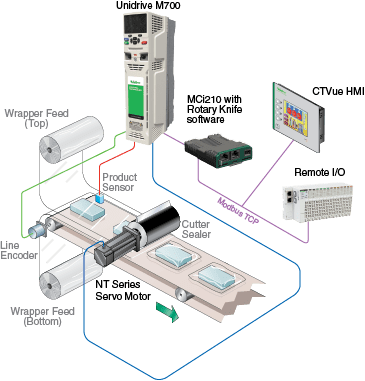 Rotary knife mechanisms
Typically consist of a cylinder with a knife blade (or blades) fastened along the longitudinal axis. As the cylinder rotates, it cuts or perforates the material passing under it. If the peripheral speed of the knife point matches the speed of the web material, the length of material cut will be equal to the circumference translated by the point of the knife. If the peripheral speed of the rotary knife is faster than the web speed, shorter cut lengths will be produced. If the peripheral speed of the knife is slower than the web speed, longer cut lengths will result.
There are other applications where a rotary axis must be synchronized to material flow, most of which may be accommodated using the Rotary Knife application solution software. The software may be configured in either metric or imperial units. This means that the configuration of the system is made very easy by an operator interface, or by entering configuration parameters directly in to the drive.
The user must provide system details including Knife Diameter, Line Encoder diameter and Knife Cutting Angle, after which the cut length may be set. The software will then calculate the CAM profile required for the given cut length, and a maximum line speed for the given CAM profile based on the application motor data e.g. motor maximum torque and speed.
Typical applications for the software include various types of web based cut to length systems such as rotary paper / steel sheeters, or similar systems like rotary perforators.
Rotary Knife application plug in solutions are available for Control Techniques AC, DC and servo drives. For more information please use the Contact Us form and a Control Techniques representative will contact you.
Specifications

The Rotary Knife Solution software has the following features:

Easy configuration via drive parameters.
Fieldbus control is possible via CTNet, Profibus-DP, DeviceNet, Modbus RTU, Ethernet, CANopen, Profinet-RT, EtherCAT.
Manual functions like jogging are available.
Blade homing routine - conventional switch and absolute encoder.
Virtual master encoder.
Batch counter and control, including sequencing for multiple batches (cutting recipes), with associated line speed profiling.
Dynamic motion profile changes i.e. cut length may be changed seamlessly on the fly
Selectable metric or imperial units.
Sine ramp acceleration profile may be selected to reduce mechanical stress, particularly where knife motor output gearboxes are used.
Cut angle speed boost.
Acceleration angle increase.
Cyclic cutting.
Registration control (cut to register).
Registration windowing control with missed mark detection and compensation.
Maximum line speed calculation, to optimize cutting for the given cut length and application motor.
May be used with straight and cross cutting knife systems.
Torque feed forward, inertia compensation.
Multi-blade support for up to 4 blades or blade pairs.
Cutting torque boost.
System / frictional loss torque boost.