Many industrial processes involve handling material in web form, commonly requiring the material to be unwound and rewound on spools and bobbins.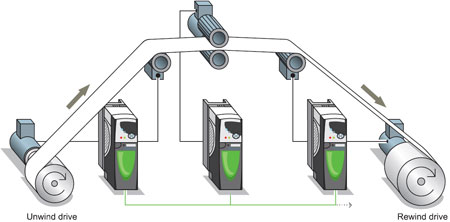 Variable Speed drives are ideally suited to provide accurate and effective control of material tension and have become the standard solution for winder applications, providing:
The ability to either motor or regenerate, enabling use in both winding/coiling and unwinding/uncoiling applications
Reduced running cost compared with mechanical equivalents
Improved reliability
A wide range of control & flexibility
The final tension control solution will depend upon the material to be processed, the speed and diameter range over which it is to be run. Simple low performance systems can be based upon straight forward open loop torque prediction, while more sensitive applications may require the tension loop to be closed by feedback from a load cell. Some materials are better handled by running the drive in speed control with a dancer roll measuring the tension and modulating the winder speed.
Control Techniques has solutions that caters for all these options and are easy to set up and integrate into your any machine. Interfacing can be analog or digital, making the solution equally suited to refurbishment projects or new systems employing HMI and different fieldbus technologies.
Winder application solutions are available for Control Techniques AC, DC and servo drives. For more information click on the Contact Us link and a Control Techniques representative will contact you.
Specifications

The Winder Solutions software has the following features:

All Data entry for set up in Engineering Units.
Set point data in digital or analog format.
Dedicated process data registers allow high speed data input via fieldbus.
Tension control using Torque Mode or Speed Mode.
PID trim in conjunction with load cell or dancer feedback.
Diameter calculation using Speed ratio or Lap count.
Alternative of direct diameter measurement via analog input.
Inertia compensation for fixed and variable inertia components.
Fixed and dynamic loss compensation.
Tension profiling to achieve Taper with adjustable taper start point
Automatic adjustment to suit both constant torque and constant power motors.
Analog or serial data input or a combination of both.
User configurable I/O allows use with discrete control devices MMI or PLC via parallel or serial interface.
Web break detection.
Analog output for Dancer pressure regulating systems.
Non-volatile storage of diameter on power down.
Optional fieldbus interfaces: Profibus-DP, DeviceNet, EtherCAT, Ethernet, CTNet, Profinet-RT, CANopen, Modbus RTU.

Winder Application video

This video demonstrates the precision with which our winder solution tracks spool diameter, motor shaft speed, and dancer tension control.

See how Control Techniques' winder solution slows the material down to stop and reverse*.