Nidec variable speed solution delivers up to 33% energy savings on Plastic Extruder Applications
Extruders are commonly used in rubber and plastic product manufacturing as well as food processing industries. Historically, plastics manufacturers have used DC motors to power extruders while some turned to larger traditional AC induction motors.
With today's focus on bottom-line results, manufacturers are increasingly looking to reduce high energy costs, increase output capacity and reliability. Control Techniques offers a variable speed solution to address these concerns using Leroy-Somer DYNEO® LSRPM high efficiency permanent magnet motors and Control Techniques Unidrive M variable frequency drives (VFDs).
Proven Energy Savings
In direct third party comparison tests between the Control Techniques' solution and a NEMA Premium® efficiency induction inverter duty motor, the Control Techniques' solution outperformed the induction motor in energy consumption throughout the entire speed range (see supporting customer data in the table).
At the equivalent rated speed, LSRPM motors in the DYNEO® range have significantly better efficiency than high-efficiency induction motors. This difference in efficiency becomes even more significant when operating below this rated speed, which is by definition the case in variable speed applications!
Permanent Magnet Technology
By reducing rotor losses, the patented radial magnet rotor technology greatly improves the drive's system efficiency and improves the machine's footprint. With the LSRPM series motors, this innovative technology is now available in an IP 55 mechanism (TEFC equivalent), the most commonly used throughout the industry.
Unidrive M - Enhanced Motor Control
The Unidrive M high performance motor drive is designed to work directly with DYNEO® LSRPM permanent magnet motors. The resulting motor control package combines the high efficiency inherent in permanent magnet synchronous motors with the efficiency of variable frequency drive technology for optimized uptime, throughput and energy savings in extruder and other manufacturing applications.
The Unidrive M delivers a robust design for long productive operation including:
Confromal coating for enhanced environmental protection
Built-in power reactors that also reduce harmonics
Built-in EMC filters to prevent interference with sensitive equipment
Onboard intelligence for extruder control that:
Protects the extruder screw
Adapts easily to existing control systems
Connects to any industrial network
Control Techniques' solution provides plastics manufacturers with optimum energy savings while giving them the flexibility of using a variety of materials and dies.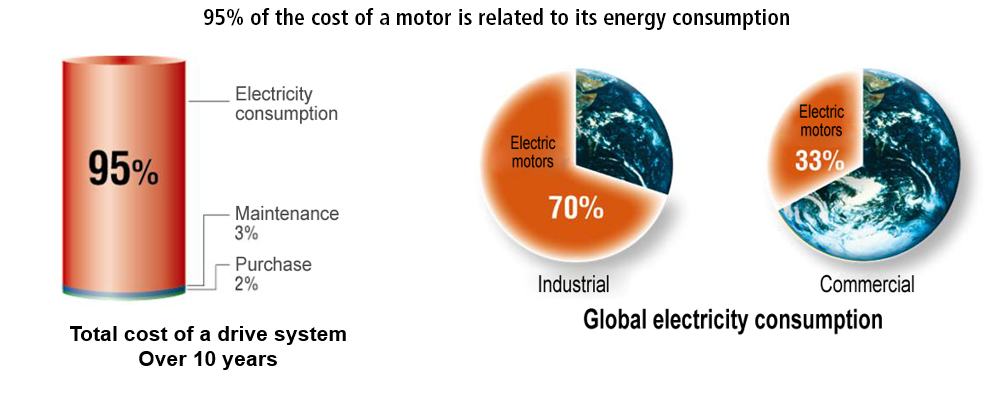 Energy Savings Solutions for Plastic Extruder Applications
---
Automation delivers 75% energy savings for Extrusion Application
The previous motor and drive solution had been installed on the company's extruding line for over 15 years. Maintenance personnel were finding it difficult to find spares since the products had been out of production for some time. Additionally, the old drive and motor solution was energy inefficient by modern standards. The customer decided it was tie for an upgrade.
The electrical and mechanical contractor chose a Unidrive M701 drive from Control Techniques and an energy efficient IE4 LSRPM motor from Leroy-Somer.
The contractor had the old and new solutions compared by a firm of independent consultants. The difference in energy usage was significant. Measured over a year, the new Nidec drive & motor solution is predicted to deliver savings of over 75% in energy costs.
---
Extrusion machine throughput increases by 10% with a Nidec solution
The company was experiencing issues with its previous DC motor and drive system on an important extrusion machine. The motor and drive package had been in service for many years but was now ageing and proving inefficient. In addition, frequent maintenance was required and, as a result, the facility sought an alternative solution.
The customer chose to use the Dyneo® package from Nidec, which comprises a Control Techniques' Unidrive M600 in tandem with a Leroy-Somer permanent magnet synchronous motor. The Unidrive M600 features a high performance onboard PLC, and also features CODESYS technology for machine control programming.
For the customer, it was important that the Unidrive M600 could support sensor-less open loop control which offers impressive dynamic performance and enables the more compact and higher efficiency Dyneo® motor technologies to be used. Unidrive M600 also supports simple positioning without the need for encoder position feedback. The drive's onboard PLC with real-time tasking can be used for logic control, speed following and digital lock to enhance application capability.
---
Manufacturer chooses Nidec variable frequency AC drives for extrusion line
The customer's extruder lines produce profiles for the PVC-window industry and for other applications such as electrical conduits. Typically, an extrusion line incorporates extruder, calibration and haul off, with a saw or other cut-off unit. Control Techniques AC drives are used throughout, all communicating with a standard CAN-open 'EUROMAP' interface and controlled by a PLC-based extruder control system. Lines generally have a throughput of around 4m/min, with a maximum of 15m/min and pulling forces from 6,000 to 55,000N. The heart of the system is the extruder, controlled by Control Techniques 60 or 75 HP (45 or 55 kW) AC drives that receive a set-point directly from the PLC via CAN-bus.
Finally, the end of the extrusion line features a flying saw, knife or guillotine, to customer requirements and Control Techniques' drives and software are responsible for the control. At its most basic, this is a simple mechanical solution, with the synchronization of the haul-off speed and the saw. Other solutions require a more complex servo solution featuring a Nidec servo drive, a servomotor and standard off-the-shelf Control Techniques flying-shear software running on the internal Applications Module.