HVAC Drive H300
1.0 hp – 450 hp (0.75 kW – 315 kW)
208 - 230 V | 460 V | 575 V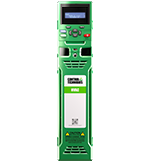 Control Techniques' HVAC Drive H300 variable frequency AC drive (VFD) is the result of extensive research and builds on our vast experience of the HVAC market. The HVAC Drive H300 dimensions are among the smallest in its class at every power rating. This saves valuable building real estate, makes the drives easy to handle, and maximizes mounting flexibility.
The HVAC Drive H300 has been designed to the meet the needs of:
Consultants and design engineers
All the necessary features to meet building HVAC/R project specification requirements
Contractors
Fast, easy and secure installation, commissioning, and maintenance
Owners of commercial buildings
Achieves maximum building occupant comfort
Optimize energy saving and value with rapid return on investment


Control Techniques is with you at all stages of your project and provides you with the knowledge, support and confidence to deal with any project need.
Helping you rapidly source drives and components for your installation
Providing dedicated all hours HVAC/R drive technical support
HVAC/R drives training, available from widespread locations or even at your site