Unidrive M400
Quick setup and diagnostics with real text display, onboard PLC and safety inputs
0.33 hp – 200 hp (0.25 kW – 132 kW) Normal Duty
0.33 hp – 150 hp (0.25 kW – 110 kW) Heavy Duty
115 V | 208 - 240 V | 380 - 480 V | 575 V | 690 V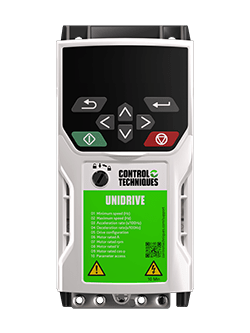 Control Techniques' Unidrive M400 variable frequency AC drive (VFD) minimizes downtime with an optional plain-text, multi-language backlit LCD keypad enabling rapid setup and clear diagnostic help.
The integrated PLC can execute a substantial range of sequencing and logic programs. Unidrive M400 has an impressive onboard I/O count, dual Safe Torque Off (STO) inputs, and can accommodate a single SI option module for additional flexibility.
The SI module has options for industry standard fieldbus, Ethernet, and expanded I/O. Additionally, an AI option slot is available for parameter cloning, 24V backup, and Modbus RTU communication options. A CI-485-ADAPTOR is also available to provide additional Modbus RTU communications in place of the optional keypad.