Smartcard 64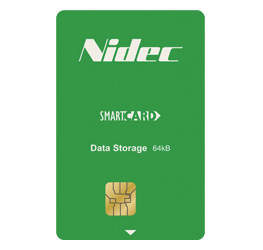 The Smartcard-64 is a 64 kB memory device that can be used to back up parameter sets and PLC programs and copy them from one drive to another.
Features include:
Parameter and on-board PLC program storage
Simplified drive maintenance and commissioning
Quick set-up for sequential build of machines
Machine upgrades can be stored on a Smartcard and sent to the customer for installation
A Smartcard is compatible with Unidrive M600 – Unidrive M702, Unidrive HS70 – Unidrive HS72, Unidrive SP, Quantum MP, Digitax ST, and Mentor MP products.
Additional cards are available to order.
Drive Compatibility

The compatibility table below highlights which Control Techniques drives support this option module

Unidrive
M600
Unidrive
M700
Unidrive
HS30
Unidrive
HS70

Unidrive
SP
Quantum
MP
Digitax
ST
Digitax
HD
Mentor
MP
√
√
√
√

√

√



√