PTi210 PowerTools integration Module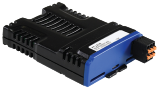 Setup complex servo motion control applications within minutes.
Get your servo application up and running within minutes with our next generation of Motion Made Easy® for Digitax HD and Unidrive M servo drives. The PTi210 enables Control Techniques' PowerTools Studio software interface.
Easy to Use - No specialized skills required to setup and execute motion - no coding!
Reliable and Economical - less labor and components to integrate motion
Flexible - one setup process for a wide range of motion applications
PTi210 PowerTools integration module
PTi210 is a cost effective way to provide simple, fast and effective motion control solutions with PowerTools Studio configuration software.
5 high speed digital I/O points (3 inputs & 2 outputs) in addition to the on-board drive I/O
1.5 axis synchronized encoder following with an optional encoder system integration module
Rapid integration for applications such as:
> Conveyor Synchronization
> Parts Alignment
> Rotary Knife
> Electronic Gearing
> Phase Synchronization
> Slip Compensation
> Feed to Sensor/Torque
> Point-To-Point Positioning
> Thermoforming

> Flying Cutoff
> Product Spacing
> Traverse Winding
> Labeling and Printing
> Random Infeed Control
> Web Control
> Multi-Lane Merge Control
> Registration Control
........and many more!