VRL Series
The all-rounder series in gearbox marketplace!
The VRL series have helical gearing, robust internal construction, smooth operation and high torque density. 5 arc-min backlash allows the VRL to be applied to a wide range of applications where accuracy and dynamics are in play, but cost is of concern.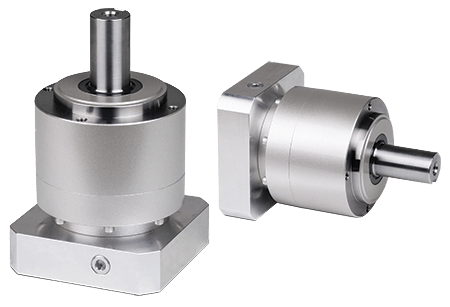 VRL gearbox series applications:
The all-rounder gearbox series is an excellent choice for servo applications in packaging, handling and automation systems. A variety of standard wash down and food grade options are available, making it an attractive option for the toughest environments.
Having industry standard mounting dimensions, the VRL series can be successfully implemented in legacy machine designs, saving time and costs.
Features:
Carburized helical gears with proprietary secondary finishing process for higher accuracy and smooth, quiet operation. 40% higher tooth surface area than the industry standard
One piece output shaft and planet carrier with two bearings straddling the planet gears. Higher stiffness, torque capacity and safety factor, with guaranteed alignment of gearing
Uncaged needle roller bearings provide excellent torque density and torsional rigidity. 43% larger bearing surface area compared to the rest of the industry
Unique labyrinth input seal design greatly reduces heat and increases system efficiency. IP65 protection is available for wash down applications
Optimized mounting system with active centering on motor pilot diameter guarantees alignment of motor. Motor can be installed in any orientation
True concentric motor shaft clamping connection, optimized for your specific motor. Reduced inertia for dynamic performance and balanced for high speed operation
Ring gear machined directly into the housing, not welded or pressed in. Provides greater concentricity and elimination of speed fluctuation