XV Motors
0.95 – 101 lb-in (296 lb-in Peak); 0.11 Nm – 11.4 Nm (33.4 Nm Peak)
230 V
The XV Servo Motor series is a high-performance, low inertia, and high torque in a compact motor package. It offers a low cost solution with the features of a premium priced servo offering.
Intended for higher throughput and smaller machines, XV motors are available in 4 Frame Sizes: 40, 60, 80 and 130 mm with speeds ranging from 2000 to 5000 rpm.
Applications with Continuous Torque requirements up to 101 lb-in (11.4 Nm) are the perfect match for the XV servo motors.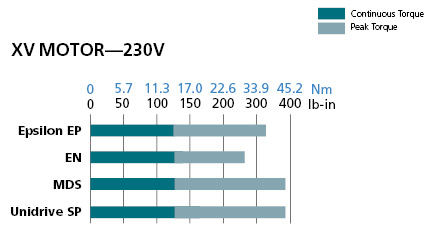 Features

Compact high-performance low inertia and high torque servo motor.
Low cost solution.
Good for applications with continuous torque requirements.
CE, UL and RoHS approved.

Downloads

Did you find what you wanted? If not submit a support request using our technical support ticketing system.

---