CTOPCServer
CTOPCServer is an OPC-compliant server which allows PCs to communicate with Control Techniques drives.
The server supports communication using Ethernet, CTNet, RS485 and USB. OPC is a standard interface on SCADA packages and is widely supported within Microsoft® products.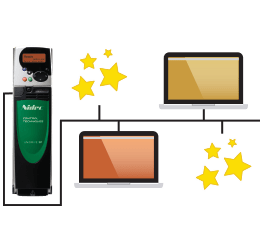 Specifications
CTOPCServer system requirements:
For an industrial application running a modern SCADA system or a VB application we recommend a major brand name system certified for Windows NT, 2000 or XP (Windows 9X systems are not supported) from the office or industrial sectors with the following specifications:
Processor: Any from the AMD Athlon, Athlon XP, Duron or later, or Intel Pentium III, Pentium 4, Celeron or later running at 800MHz or greater. For servers running large active namespaces we recommend Athlon XP or Pentium 4 processors running at 1.8GHz or greater with 512Mb ram
Memory: 256MB RAM
Hard drive: 200MB of free hard disk space.
Operating system: Microsoft Windows NT4 sp6, Windows 2000 sp4, Windows XP.
Microsoft Excel 2000 or later will be required to make the configuration file. It is not necessary for this program to be present on the run-time machine
Web browser: On OS's prior to Windows XP, Windows Explorer 5.5 or greater must be installed on the run-time machine as it provides XML services to the OPC Server. On an NT machine with IE6, sp1 for IE6 is also required as IE6 installs com components that are incompatible with server browsing.