Online Training Options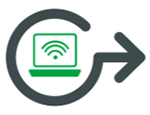 Control Techniques recognizes that the costs associated with traveling to attend a classroom course can be significant.
To combat the high cost of travel, and to provide 24/7/365 access to Control Techniques product training, we offer 3 different options for Online Training:
1. The Learning Center
The Learning Center is our online training portal. This is where we provide in depth, immersive training on our products. The courses on The Learning Center are free of charge and may be accessed by anyone who has registered and been approved.
To request access to The Learning Center, please use the form below.
To take a tour of The Learning Center, click here
If you already have an account at The Learning Center, you may access it here.
2. YouTube
Control Techniques' operates 2 different YouTube Channels. These channels provide training in the form of very focused videos and the America's page also includes an archive or previously recorded webinars. Please consider subscribing to these channels so that you'll be informed of any new content.
Drive-Setup.com is a website that offers the tools required to get one of our high performance AC drives going right out of the box. Here, you will find links to product videos, and there are also download links for Control Techniques manuals and software.