How else would Control Techniques celebrate turning 50?
By creating a short film that takes a look at our past but also paves the way for a bright and exciting future for Control Techniques. A story that shows our entrepreneurial spirit, and passion for challenging the status quo. Undoubtedly, innovation, design, knowledge, and expertise are at the core of everything we stand for. Be it past, present, or future, our determination to be the number one drive supplier remains strong.
So, without further ado, meet DM-50, a character who embodies our drives and innovation. Dynamic, and spirited, this character represents our belief that no challenge is too great to overcome.
Sit back, relax and enjoy our short film. We are proud of our history and excited to see what the next 50 years will bring.
Thank you for being a part of the journey!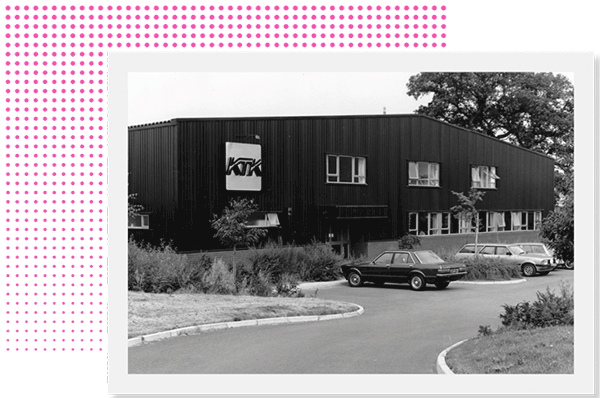 It all began in 1973…
…when, in a rapidly emerging drives market, three men felt that the company they worked for wasn't evolving or innovating fast enough and decided to do something about it. KTK, named after its three founders, was born. The trio, Ken Briggs, Trevor Wheatley and Kevin Curran, established their own drives manufacturing company in the heart of Mid Wales.
KTK's vision was to provide a new innovative drive that would meet the needs of the market. The following year they did just that with the release of the KTK 415V DC thyristor drive which improved performance, reliability, and energy efficiency for motor control.
In 1985 the business upsized its premises and repositioned itself as Control Techniques, it had been enjoying fast and profitable growth and needed to expand to keep up with product demand. As it grew in Newtown, so did its network globally, having developed close relationships with customers on a global scale, the necessity to be able to service them locally was a big part of the business strategy. From its early beginnings, Control Techniques today has its Headquarters, manufacturing, and R&D facilities firmly planted in Newtown with 23 Drive Centres around the world and a partner network in 70 countries to service customer needs.
Read More
The Origin
The Origin offers a detailed look at Control Techniques growth over the last five decades, from its humble beginnings in Mid Wales through to it joining the Nidec group in 2017. The Origin is part of a trilogy series of books, to view the trilogy, click here.
Control Techniques - The Origin