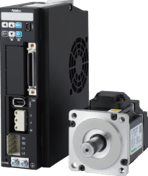 Control Techniques, part of the Nidec group of companies, has launched Digitax SF, a new generation of servo drives and motors to complement its existing portfolio. Compact and easy to use, the range is designed as a first-choice solution for low power applications.
Digitax SF is positioned alongside Control Techniques' flagship Digitax HD servo platform, focussing on the low power segment 200V, from 50W up to 750W. With 17-bit feedback resolution and pulse or analog control interface, Digitax SF is a perfect fit for cost-sensitive small servo applications.
Multiple motor inertia levels are available, to cover a wide range of applications, from semiconductor manufacturing to textile and packaging machines. While very easy to set-up and tune, the drive offers a rich selection of filters to compensate for mechanical resonances and suppress tip vibration, making it particularly suitable for robotic applications.
To ensure smooth commissioning and maintenance, Digitax SF Connect is a user-friendly PC tool for easy parameter setting, and tuning. Ease of machine start-up is further facilitated through a drive point table and test run features.
Connect offers a familiar Windows interface and intuitive graphical tools and includes a built-in scope for advanced tuning and diagnostic. The parameter browser enables viewing, editing and saving of parameters as well as importing parameter files from legacy drives.
Control Technique's "Diagnostic Tool" app permits users to quickly solve any error codes the drive may show. Built within the app are easy to locate wiring diagrams for first time setup and fault finding with links to the relevant manuals.
"Digitax SF brings the very latest drive technology to the low power applications sector of the market. This offering ensures that Control Techniques is at the top of its game in every department and has a first choice offering for leading industrial manufacturers throughout the world," said Anthony Pickering, president of Control Techniques.