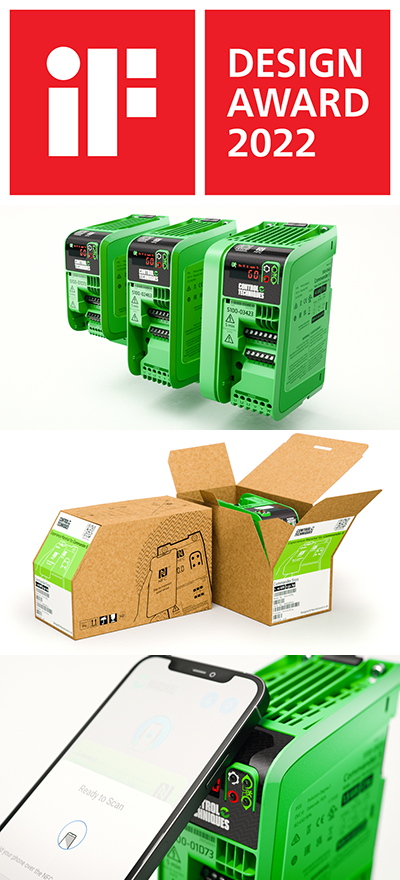 Control Techniques is a winner of this year's iF DESIGN AWARD, the world-renowned design prize. The winning product Commander S and the Marshal app, won in the Product discipline of the Industry/Tools category.
About iF DESIGN AWARDS
Organised each year in Germany by the iF International Forum Design GmbH, the iF DESIGN AWARD has been recognised as an arbiter of quality for excellent design since 1954. The iF Design brand is renowned worldwide for outstanding design services and is one of the most important design prizes in the world. iF honours design achievements in all disciplines including product, packaging, communication and service design, architecture, and interior architecture as well as professional concept, user experience (UX) and user interface (UI). All award-winning entries are featured on www.ifdesign.com and published in the iF Design App.
The competition was intense…
Commander S and Marshal won over the 132-member jury, made up of independent experts from all over the world, with its outstanding modern design and innovative technology, incorporating NFC technology onboard the drive. The competition was intense: almost 11,000 entries were submitted from 57 countries in hopes of receiving the seal of quality.
Commander S has been designed with the user in mind. Control Techniques conducted extensive research to understand the users' needs and to build a viable solution. Users want a drive that is fast to install, easy to commission and reliable and this is how Commander S addresses those needs:
Fast to install
The sleek curved design of Commander S optimises component layout for a small footprint and easy access to terminals. The click-on/click-off DIN rail mount makes installation remarkably easy. The control terminals are angled and offset screw connectors for easy access. The marking for the terminals is laser printed for easy identification.
Easy to commission
Commander S comes with an app interface called Marshal that provides guided setup routines, making it possible to commission the drive in only 60 seconds. The app is free of charge and the data transfer between the mobile device and Commander S is powered by NFC technology.
Reliability
The power terminals are finger-proof for safe operation. The control boards are 100% conformal coated ensuring protection against moisture, corrosion, and dust. Commander S comes with a free 5-year warranty. The feature set has been optimized to allow for continuous run eve during unusual loadings or operating conditions
This is an outstanding accomplishment for everyone involved in the making of Control Techniques' new innovative micro drive, a milestone to feel immensely proud of.
More information about Commander S can be found in the "Winners & Ranking" section on iFDesign.com