DFS Series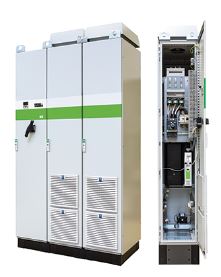 Freestanding Drives
55 kW to 540 kW
400 V | 690 V

Ready To Use High Power Cubicle Drives
For many drive users, designing and building a high power drive cubicle requires extensive in house engineering expertise that they do not have.
The DFS Drive is a pre-assembled, ready to install drive cubicle system designed for use in high power applications where energy saving and high ingress protection are key. With fast, easy installation, plant availability is maximised with virtually zero requirement from your engineering resource.
Introducing The High Power Cubicle Drives
High Power Cubicle Drives



Ready to use: Easy set-up

Industry standard cubicles which integrate with your existing installation
Includes power disconnect and fuses
Pre-installed options available
Water cooling is available on request




Straightforward set-up & commissioning

Commissioning is made easy with a door mounted multi-language HMI
Enhanced diagnostics thanks to the real time clock
Connect PC tool for optimum commissioning:
i. Loaded with parameter management features, including
cloning
ii. Easy-to-read dynamic logic diagrams so you can visualise
and manage the drive in real time




Fast delivery

Need your order ASAP?

Our local Drive Centres and partners have got the quote and order process down to a fine art. Issues that could cause delays are ironed out immediately.
Emergency breakdowns won't set you back weeks, we'll ship you a replacement drive within a week
Standard lead-times are six weeks




Free 2 year warranty

All of our components come with a 2-year warranty so you can rest easy.
Warranty terms and conditions apply.