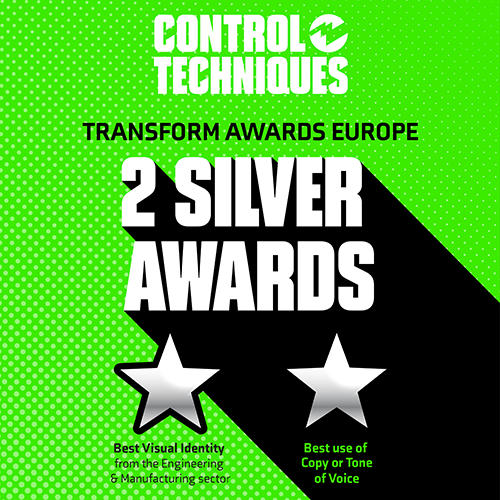 Transform Awards celebrate companies and agencies that best exemplify the transformational power of rebranding, repositing and brand development. Each entry was examined by a panel of expert judges, who determined those that excelled in best practice in corporate, product and global brand design and strategy.
On March 30, Control Techniques once again caught the judge's eye and won two silver awards for 'Best use of Copy or Tone of Voice' and 'Best Visual Identity from the Engineering and Manufacturing sector' in Transform Awards Europe 2022 alongside collaborative partners, GW+Co. Great partnerships, lead to even greater things, and the partnership with GW+Co to create a challenger brand that stands out in a crowded drives market, has, and will continue to deliver results of this successful transition time and time again.
Following winning three awards last year in Transform Awards North America 2021, one gold award for 'Best use of Copy Style or Tone of Voice' and two silver awards for 'Best Brand Development Project to reflect a change of Mission, Values or Positioning' and 'Best Visual Identity from the Engineering and Manufacturing Sector', this is another excellent achievement for Control Techniques.
So, what does it take to win awards?
We are proud of how much of an impact we have made with the brand development, it has completely refreshed how we present ourselves in the drives industry.
It does take change, but with change comes opportunity. It takes a group of highly motivated individuals that drive forward together and support each other every step of the way to achieve success.
Our vision of "When anyone thinks drives, they think Control Techniques" is a visual goal we all strive towards at Control Techniques. We are drive obsessed, and our ambition pushes us to be the go-to in the industry. We know our drives inside and out and to drive Control Techniques as a challenger brand in the industry, we needed a strong brand. The brand is the face of the company, its first thing people notice, and we all know first impressions are crucial.
Mastering the art of bold and dynamic graphics, accompanied by confident tone of voice throughout our marketing collateral. Paying close attention to detail, marketing assets are packed with key information on how customers benefit by using our product and services.
Sue Clark, Global Marketing Communications Manager says "Being awarded two silver awards in the prestigious Transform Europe awards is a tremendous achievement for Control Techniques. With the launch of our new identity, we took things back to square one and tried to answer the fundamental questions facing any organisation. The outcome of each stage informed the next, which led us to our exciting new brand. Control Techniques has been active for nearly 50 years, so there was a lot of heritage we had built up. By focusing on our strengths, we developed a bold new vision for the future of our organization. In collaboration with GW+Co the outcome has been amazing, and our brand now stands on its own in a crowded market. To receive the awards is a testament to the work involved by all teams and we couldn't be happier or prouder."

We will always be on the continuous journey of innovation and keeping things fresh with every product release.
The excitement does not stop here, we are now counting down the days to the launch of the newest addition to our product portfolio, Commander S General Purpose AC Drives and the Marshal app will completely revolutionise how users' interface with drives. We are sure this product will turn heads.
Anthony Pickering, President, says "It was a great pleasure to be able to attend the Transform Awards Europe 2022 ceremony held in London this year. It was an honour to pick up the two silver awards, in person, on behalf of the business and the Control Techniques teams involved in making all this happen. Control Techniques had, for too long, been the best-kept secret in the drives world. We were the original drives brand, with a long history of industry-firsts. We had reason to shout, and reason to be confident. We are challenging the norm for our industry, but it is working, Control Techniques is going from strength to strength."