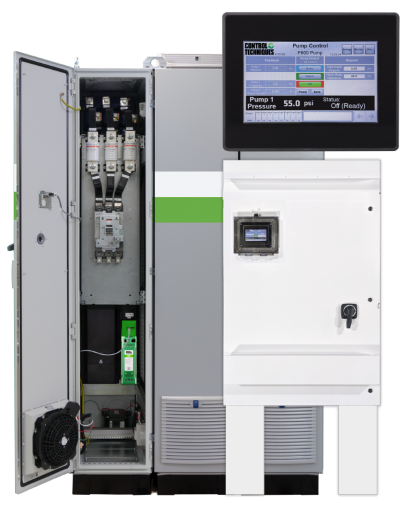 CONTROL TECHNIQUES ADDS WALL MOUNTED PACKAGES TO ITS PRE-ENGINEERED PUMPING SOLUTIONS OFFERING
When working with industrial pumping, such as crop irrigation or wastewater management, simple and reliable flow control is paramount in ensuring efficient operations. Control Techniques, part of Nidec Motor Corporation, has introduced new wall-mounted panel models of its packaged pump solutions for use in pumping applications.
These easy to install, pre-configured solutions save engineering costs, resources, and time with the ability to control single and multiple pump applications without a costly PLC (programmable logic controller).
Control Techniques' pre-configured pump packages contain its industry-designed pump drive F600 developed with easy-to-use, pump application-specific software functions, real-time clock, Hand/Off/Auto LCD keypad, input disconnect switch, and space for several power options inside a robust UL Type 3R enclosure. In addition, Control Techniques' Wall Mount Panels (WMP) and Control Techniques' Free Standing (DFS) are also ready for fast deployment and can scale to nearly any pump size and functional requirement.
These pumping packages are specifically created to offer high performance for the harsh environments often found in pumping applications. Control Techniques' WMP and DFS pump packages feature a surge arrestor, which provides transient voltage surge suppression as well as a circuit breaker disconnect with high SCCR ratings. All of Control Techniques' packaged pumping solutions are designed with field serviceability in mind, giving the added benefit of shorter maintenance downtimes.
More information on the DFS and WMP pre-engineered packaged solutions can be found on the Packaged Pumping Solutions webpage. Control Techniques' entire line of pump and drive solutions is featured on www.controltechniques.us.
---
Press please use the following links to download the full press release in PDF and the related high-resolution product image.